Mindy Kaling Previews The Mindy Project, Return Guest Star Appearances

TV Fanatic Staff at .
When we last saw Mindy Kaling as Mindy Lahiri on The Mindy Project, she was surrounded by NBA players in a club.
The next time we see this actress in our favorite new comedy of the fall, meanwhile, she'll be all decked out for Halloween. In what sort of outfits?
"They're not sexy, hot girl costumes," Kaling told reporters on a conference call yesterday of the show's upcoming holiday episode, adding that what to wear for this occasion will "stress" her high-strung character out a lot.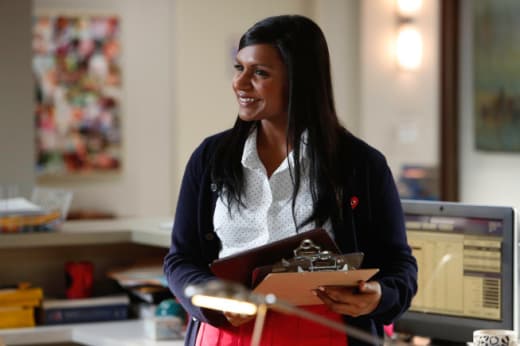 What else can viewers expect from The Mindy Project in the weeks ahead? What else did Kaling spill on the call?
The returns of Bill Hader and Ed Helms, the former of whom will show up for Halloween.
A Michael Scott-like evolution. Says the actress of her fake former boss: He "was very different when he left at the end of his time… than he was in the beginning... I would love to see her shed some of that adoration for romantic comedies and try to embrace her life a little."
She admires friend B.J. Novak's ability to do stand-up comedy.
She drinks a fruit/vegetable smoothie every morning before work. ("That's my secret trick.")