Kristina may have said to her family, "There's Something I Need to Tell You" this week, but nothing was actually uttered.
The beauty of Parenthood lies in the performances and the unspoken words. The cast and writers express through their performances such nuance that I am continually amazed more people haven't tuned into this gem of a program over the years.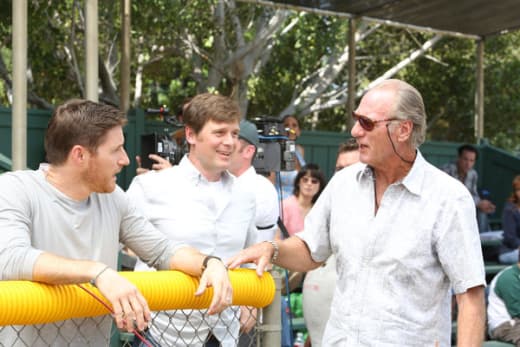 Never do you feel farther away from home than when someone you love gets sick. Peter Krause tugged at my heart as Adam spoke with Haddie about Kristina's cancer and tried to hold it together for his girl. If you've been reading my Parenthood reviews long enough, you know I've not been a fan of Haddie's, but since she left home and gained some respect for what she lost by choosing a school across the country, she's crept back into my good graces. 
To be so far away from such a tightly knit family and learn of your mother's diagnosis of cancer would be enough to send any girl back home. Knowing each other as well as all Bravermans do, when she walked into the restaurant after the baseball game, all questions about why Adam had seemed so flaky and off kilter disappeared.
Showing the reaction of each of them to the news rather than listening to Kristina tell them about it was a unique way to depict a difficult tale. It allowed us a moment to imagine the conversations each of them had with various members of the family and where their heads were at the moment they digested the news.
Mark hasn't been living with Sarah? Why was I so certain he had moved in long ago? Now I wish that he had, because breaking up and moving out would be easier than what might happen after Sarah suggested they move in together at this point in their relationship. Sarah's overemphasis on how great she and Mark were together was painful. Contrast that cringe-worthy scene with the one when Hank admitted his feelings for her and I had to wonder why we haven't heard the news that Jason Ritter has been let go from Parenthood already.
There is a chemistry between Lauren Graham and Ray Romano that was never expressed with Lauren and Jason. There was too much attention to the age difference, his position as Amber's teacher and Sarah's desperation after the Seth debacle for them to ever properly click. It felt forced. Hank and Sarah are magical.
So you can't have it all; but do you really need it? Julia had to grovel after submitting paperwork late for one of her cases, and that was just the start of what was almost a total mental collapse, as well as nearly burning her house down while cooking breakfast. Joel has always been the strength in the Graham union, silently carrying the family as Julia was driven to have it all. She wanted the career, the kids, the perfect marriage and didn't want any of it to suffer.
Something had to give eventually, and thankfully it was only her career. Joel has suggested a few times that he might want to pursue different options and maybe he'll get the chance to do that. In the meantime, they need to focus on what they have and strengthen their new family. 
I loved the turnout for Victor's first baseball game, and Zeek's demand that he get to play. Good call, Zeek, your new grandson hit a home run! The look in Victor's eye as the ball was thrown and the knowledge that it was the one he would finally hit was filmed so well I felt as if I was at the plate with my own family's eyes upon me. I can remember my first hit and that combination of pride and excitement that you'd really done it. Hopefully, it will be the last home run Julia misses.
The Braverman family has so much to offer. Zeek's new friend Ryan was floundering after returning from Afghanistan, and Zeek knew just what to do: introduce him to the family! As he was tricked into it, Ryan could have easily been annoyed when he arrived at the baseball game, but with a family of that size, if one of them doesn't float your boat, you can bounce around and make conversation with someone else, most assuredly finding somebody that interests you.
After Max's line of questioning to Amber about her being an adult - why she doesn't dress like an adult, why she's shorter than most adults and isn't married? - she met Ryan. Amber's answer about not being married was not having met the right guy. Ryan and Amber seemed to hit it off both at the park and in the restaurant.
Could this be the romance she wasn't even looking for? I really hope so. When she easily dropped the topic of his recent return to the States, he appeared very pleased. I look forward to seeing a lot more of the two of them. 
Like the Rolling Stones said, you can't always get what you want, but if you try sometimes you just might find you get what you need. All the Bravermans need are each other. 
Carissa Pavlica is the managing editor and a staff writer and critic for TV Fanatic. She's a member of the Critic's Choice Association, enjoys mentoring writers, conversing with cats, and passionately discussing the nuances of television and film with anyone who will listen. Follow her on Twitter and email her here at TV Fanatic.