"Good Grief" reminded us that to move forward, we must allow for our old wounds to heal. Our favorite doctors faced challenges head on and we were treated to storylines that showed progression and growth.
So far, Private Practice Season 6 has been so unbelievably heartfelt and amazing. I am loving every bit of the writing and seeing how everything and everyone is changing.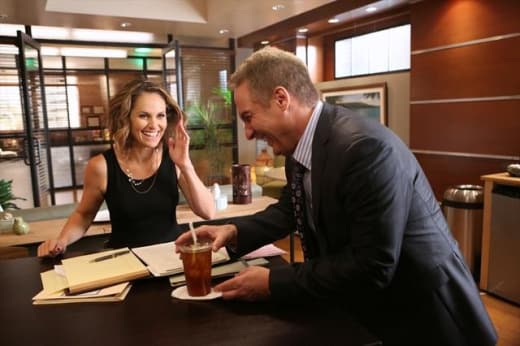 While I was glad to see Addison dealing with Mark Sloan's death, I thought it was very much like her to struggle with having to talk to Jake about her past. Jake's reaction was a bit predictable, though, as he has really shown no evidence of being anything but a saint.
Don't get me wrong. I've always been a huge fan of our girl Addie and I'm more than thrilled that she's now got everything she's always wanted. In fact, I really do like Jake, but it's just that he consistently seems to be flawless. 
As always, perhaps the best scenes of the night were with Charlotte and Cooper. They're rather incredible, aren't they? Week in and week out, I fall more in love with their dynamic and I absolutely adore the way that Cooper loves Charlotte. It's evident in both of their eyes and just the way they are there for one another.
How adorable was it when she had some set guidelines in regard to her baby bump?! From only being able to talk to her belly once a day to the no singing, massaging or kissing rules, I'm so curious to see how the Cooplettes will further define their soon-to-be huge family.
Meanwhile, it might or might not come as a shocker that this week's review will not include a Violet Annoyance Scale (VAS) for the second consecutive week. Heck, we may have to forget about the VAS this season as Violet seems like a completely different person.
Aside from a few minor issues, I really enjoyed Violet's character development throughout the episode. From the group grief counseling to helping Lucas understand his father's death, I couldn't help but feel so utterly bad for Violet. Somehow I knew that she would end up lashing out at her patient, but I was just glad that she ultimately was able to help her patient see that living amends can set you free.
By the way, how great was that scene with both Charlotte and Violet? It was touching, and I liked how Charlotte referred to Pete as her work-husband and even laughed a bit when Violet said answering to Lucas' repetitive question about where Pete was almost like dealing with a patient with dementia. The very last scene with Lucas accepting his daddy's death was heartbreaking, but ironically, the perfect way to end an overall strong installment.
Other Thoughts
Amelia organized a schedule with everyone checking in on Violet with a cup of tea. With everything from chai tea lattes, iced teas, and even hot teas, this made me terribly thirsty.
We found out that Sheldon might have prostate cancer. How do you see his storyline playing out?
Jake asked Sam to talk to Addie about Mark's death. His response: it's not his job anymore. Was what Sam said out of line?
Sam and Stephanie… are you buying it? How much longer can Sam withhold his story from her?
Check out the Private Practice quotes for Cooper's typical funny one-liners and other moving moments.
All in all, "Good Grief" was awesome. I'm excited for what's in store for the rest of this shortened season.
I'll see you all in two weeks as Private Practice won't return again until October 23. Tune in because we've got to keep those ratings up! Also, don't forget to return later this week for our Private Practice Round Table.