RIP, Pete Wilder and Mark Sloan.
Private Practice mourned a pair of losses on "Good Grief," as characters both dealt with the past and looked ahead to the future.
In this edition of the TV Fanatic Round Table, TV Fanatic staff writers Christina Tran and Carissa Pavlica are joined by readers Caitlyn Castro and Jarrod Mitchell as they breakdown the latest episode of this ABC drama...
----------------------------------------
What was your favorite quote or scene from this week's Private Practice episode?
Caitlyn: Cooper running to find Charlotte in the hospital saying it was his job to protect her. I love how much he loves her and we really saw that in that scene.
Jarrod: Definitely the short scene between Amelia and Violet, in which Amelia said: "In the beginning everyone's there, but people forget and lives go on, or people forget and go on even if it's not going on for you. I just wanted to make sure..." Honestly, after all she's gone through, how can Amelia still be so selfless? Kudos to Caterina Scorsone for another magnificent performance.
Carissa: When Addison and Jake finally talked at the end of the episode. They are so good together. Addison finally has a man who will accept her and all of her backstory without judging her. I wish that kind of love for everyone.
Christina: It was heartbreaking when Violet said: "My son has reached acceptance. He knows his daddy's never coming back, and it breaks my heart."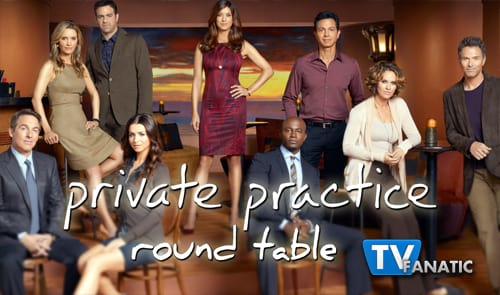 We're now three episodes into Season 6. Which character has shown the most growth?
Caitlyn: Addison, I think. It took a lot for her to tell Jake about her past and she seems more grown up now. I'm happy for her!
Jarrod: Once again, I have to say Amelia on this one. She's gone through so much and she still able to be there for so many people and try as best as possible to be so positive. Definitely one character I will miss once the show is over.
Carissa: Pete. By dying, he has finally stopped annoying me every week. Seriously, all of the others are growing at a fairly equal pace so it's too hard to choose one of them yet. Pete's the winner!
Christina: All great choices, but I'm going with Caitlyn's choice. Addie has grown significantly.
Sheldon could possibly have prostate cancer. How do you see his storyline playing out?
Caitlyn: I'm not sure, but I hope it's something that he goes through with Amelia. He shouldn't die, of course! Poor Amelia, but it could be interesting to see how this affects the two of them as friends.
Jarrod: I don't see it playing out in 10 episodes or less. With a season of 22 episodes, possibly, but with only 10 episodes to go, the only outcome I can see is no cancer or him dying from it as a result – which on the bright side, would show another stellar performance from Caterina Scorsone dealing with the loss of her best friend.
Carissa: It will depend on whether they decide to call it quits by the end of the season. It's already shortened, and we've already had so much death. It would be unfair to suffer through another one, but he might have cancer to give Amelia a chance to help him survive it. She's almost morose in how casually she's dealing with the issue of death right now. Helping him successfully survive a cancer scare might help give her some perspective and put them back onto that romantic track they could have taken.
Christina: My co-Round Tablers have nailed this question. I have nothing more to say.
Amelia organized a schedule of visitors with tea in tow for Violet. How do you take your tea and what advice would you have given her?
Caitlyn: Iced tea, always! I think Violet just needs to take a break for a little while. In the middle of going back to work, moving out from the cursed house, and cleaning out Pete's things, she just needs some time to breathe.
Jarrod: I don't drink tea, but an iced tea would have been nice if I were to get some. As much as I'd want to try and help out with words, I've never lost a spouse/partner to death, so I couldn't really offer an insight besides: "If you need me, day or night, I'm here for you."
Carissa: I take my tea iced. I wouldn't have given Violet any advice, but I would have lent my ear and suggested that she do what she felt was the right decision for her. 
Christina: Iced tea with lemon, please! I, too, would just listen and remind her everything will be okay.
Should Private Practice continue without Addison?
Caitlyn: The CharCoop fan in me says - YES! YES! YES! Cause I just want to see more of them. But at the same time, I'd like to see them end it with everyone together rather than having Addison leave for God knows what reason.
Jarrod: These past two seasons have introduced new characters and shown us that the show can go on without Addison, so as long as Caterina Scorsone, KaDee Strickland, Paul Adelstein, Amy Brenneman and Brain Benben have something new to show us, I'm more than happy do it. Truth is that Kate Walsh has already shown us everything and that seeing as she's gotten everything, I'm happy for her to move on with baby Henry and Jake out of L.A. I wouldn't mind if Taye Diggs were to follow out with them, but even Sam needs a happy ending.
Carissa: No. Watching that final scene I noted above between her and Jake, I realized how imperative she is to the overall theme of Private Practice. To lose her would be too great a loss. Unless they came up with one hell of a replacement, I wouldn't watch.
Christina: I know we could now count the remaining number of episodes on our fingers, but I still think it's a bit too early to tell. I still want to see how the season plays out a bit. I'm thinking by midseason, I'll really know if I want the show to go on without Addie.