While "Soul Train" started to pull Revolution's heavy story-telling burden forward, some of its payoffs ended up holding everything back.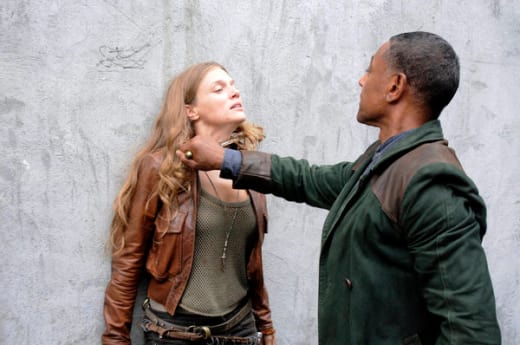 Let's start with the good: finally delving into Tom's character and getting to know the man he is today - compared to the man he was before the blackout - made for one of the strongest parts of Revolution yet.
Watching Tom, as he morphs from a person who is just going through the motions of life and letting people walk all over him into an individual who dedicates his new lease on life to impact law and order as he sees it, was fascinating.
These competing personalities of Tom are what make him so compelling because on one hand we see someone who is continually giving Danny fatherly advice and using him like a stand in for his own son - but since Danny is a prisoner, Tom's advice sometimes crosses into areas that are not necessary for Danny's age.
We brought all this together with one of the final reveals: that Twilight Stand In Nate is actually Tom's son, Jason, and all of a sudden most of Tom's actions aren't so off base anymore. While Jason is pulling off handcuffs very fashionably, someone needs to stand in for him while Tom passes on his words of wisdom for successfully being a Munroe Militia Man... and the unlucky winner gets to be Danny.
The other quality aspect is Rachel spilling the beans about the pendants to Monroe. With 12 in circulation and three of them already accounted for, the pendant becomes the new arms race.
Which brings us to the not-so-good about tonight: the train. While the train itself is solid, and answers a few questions about what is or isn't working, it still doesn't make up for the fact that the train is now in Philadelphia and Miles and Charlie are still nowhere near there.
This constant game of catch up, only to miss Danny by a few seconds, is starting to get a little old, and it begins to show one of Revolution's biggest challenges: what happens when we're not running toward someone? And possess the something we're looking for? Hopefully, Revolution can bring an organic answer to that as time marches on for the series.
Other thoughts:
The horse pulling the car cart never gets old. Horsepower comes full circle!
Kim Raver is a welcome addition to the cast.
The map of the republics and territories is pretty awesome. As a California boy I'm happy to see California successfully overtook Oregon and Washington.
Aaron continues to be useless.
All Twilight couple needs is some puppy dog eyes and they'll do anything for one another.
Charlie is once again a mixed bag. Her interactions with Miles, Tom, and briefly with Danny were a joy to watch, but when given material outside the character's age and maturity bracket things start to take a dive.
These pendants are beginning to sound like a Captain Planet episode.
Finally, Miles totally wins tonight's one-liner contest:
You guard nipples. If he even tries to move, go ahead shoot him. | permalink