Is it just me or was Scandal one insane hour of television from opening to closing credits? My heart is still racing. I'm maybe even still on the edge of my seat, though it's probably safe for me to lean back now.
"Hunting Season" was seriously intense in more ways than one.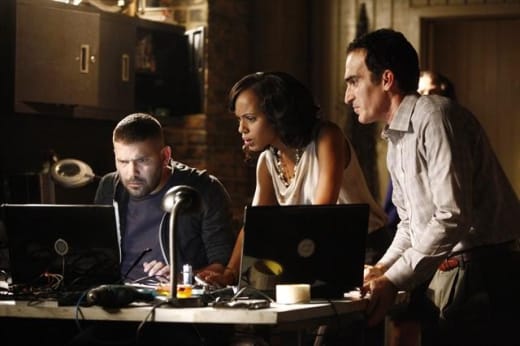 Normally, I find the case-of-the-week aspect of shows like this to be less important than the character development that takes place. Not here, though. This week's case of domestic espionage provided the perfect avenue to drive the show forward.
NSA data-entry man, Artie Hornbacher, comes to Olivia for protection. He knows that the government has created a program, Thorngate, that allows them to spy on average citizens in the name of anti-terrorism and believes they are trying to kill him, or will kill him. Artie gets stashed at Huck's apartment for safety while Olivia does damage control both personal and professional. Her client is aware of her late night phone calls from the White House, as is Cyrus Beene.
Cyrus knows Fitz is a ticking time bomb. At any moment, he might implode and take the country down with him, and Cyrus sees it as his personal mission to keep that from happening, even going so far as to arrange clandestine meetings between Olivia and Fitz if it keeps him happy instead of self-destructive. (That speech was a stellar delivery and is captured on our Scandal quotes page.)
It was fantastic to learn just a little more about Olivia tonight. To date, she seems to be the keeper of the secrets, including her own. We know more about almost every other character than we do about her, so small bits of information are always welcome. Information like the fact that there was a man before Fitzgerald Grant and he's a Senator on the Intelligence Committee now. And Edison Davis was just the man Olivia needed to see. But seeing him causes problems, namely jealousy.
(Side note: What's up with male characters in power having last names as first names, Shonda? Call me. We'll talk.)
Fitz's rage over knowing that Olivia had seen her old flame was insane. No, really. Insane. The scene in the woods between the two of them has momentarily squashed my desire to see these two together, or to see Fitz with anyone at all for that matter. When he gets mad, he gets ugly. He knows exactly what words to use to hurt people.
I was so excited to see Olivia stand up for herself I high-fived her from my living room. She's not the President's property and refuses to allow him to treat her as such. Even though her spurning of his advances caused him to go "nuclear" to stop her case, she needed to put a stop to things, for herself and for him. She cannot move forward as long as she allows herself to be pulled back in. And he is, after all, married.
While Cyrus had the power of Thorngate to spy on the President, Mellie had women's intuition.
The tender moment between Mellie and Fitz while she folded baby clothes and they laughed together made me think that perhaps his icy apology in the limo during the last episode hadn't been a farce. Maybe he was trying to make amends. But that happiness was short-lived. And Mellie, too, refuses to be treated like a pawn in his game.
She's making a plan and her plan involves another spin on the campaign trail. Without Fitz.
Other notable moments from this episode include the rest of the team at Pope & Associates.
Aside from Olivia's apartment, Huck's is the first interior of any of the members of Pope & Associates that we've seen so far taking us one step further into his world and his mind. For a second it felt like I was at a very low-grade CTU with Huck hacking away trying to crack the program. And since it's Huck's mind that may actually be cracking this season, learning more about him tonight was fantastic.
After catching heat from Abby for weeks now, Quinn has finally put Abby in her place and asserted her own as a member of the team instead of just the coffee and random errand girl.
Speaking of Abby, can't say I saw the hook-up between her and David coming, but I also can't say I hate it. I think those two could be good together.
David, while not actually a member of Pope & Associates, doesn't doubt that Olivia did whatever it is she did for good reason. Here's hoping his active pursuit of alternate theories behind the bombing don't earn him a spot on Olivia's client roster.
What did you think of "Hunting Season?" Watch for the Scandal Round Table in the coming days, and until then sound off in the comments!
Miranda Wicker is a Staff Writer for TV Fanatic. Follow her on Twitter.