Although Dwight's storyline showcased him looking for a crazy person at Dunder-Mifflin, "Here Comes Treble" was definitely one of the least crazy Halloween episodes we've seen from The Office.
Andy's a capella group was in town, Jim and Pam were arguing over money and Dwight was just trying to get a handle on his life. It wasn't the weirdest and wackiest half hour ever, but it wasn't the worst either.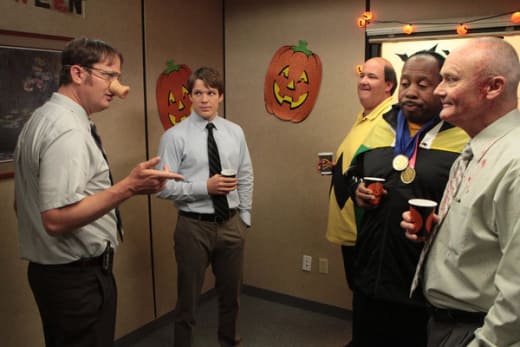 I enjoyed Stephen Colbert's guest appearance as Broccoli Rob, especially the fact that he continued to steal all of Andy's thunder. And he, along with the rest of Treble, brought out the best in old Bonerchamp.
His frustration with everything that went wrong with his old group, especially the fact that he got made that Broccoli Rob stole the name Bonerchamp, was charming.
Not as charming, though, was all of the Pam/Jim business. In this last season, it's okay to work in the ending of stories. If that arc is heartwarming and/or funny, I'm all for it, but if it's annoying and/or boring, let's leave it out. Jim going to that meeting and tossing in 10 grand, and Pam getting mad at him about it, could have been left on the cutting room floor.
Dwight, while masking his own frustrations, attempted to find out the identity of crazy person taking pills. His issues, which he finally admitted to, forced him to accept Nellie's pill and calm him down a bit.
The fact that those issues were a way of setting up his spin-off was great. His mini rant about his land disputes, idiot cousins and ne'er-do-well siblings sounded eerily similar to the premise of The Farm, and I commend The Office for working that into the script.
All in all "Here Comes Treble" was a nice enough holiday episode to keep us warm before the next Yankee Swap at Dunder-Mifflin. Check out some other highlights from the installment below, hit up our The Office quotes page and leave your thoughts in the comments.
That cold open was a great site gag. I'll never tire of watching Dwight walk around with a pumpkin on his head.
Dwight: It's not for worms or eczema like any normal pill.
The Creed jokes have become a bit too one-note, but I laughed much more than normal at the fact that he didn't know it was Halloween.
Although it's been done time and time again, I enjoyed Dwight Jr. going overboard at the Treble's performance. "Where's the band?!?!"
Kevin doesn't hate anything as much as Pam hates Monster Mash.
Erin: When you're with someone, you put up with the stuff that makes you lose respect for them, and that is love.
Dan Forcella is a TV Fanatic Staff Writer. Follow him on Twitter.