There may have been a couple of other funny moments, but without Kevin Malone's numerous gut busters, "Work Bus" might not have been worth watching.
Now in its ninth and final season, maybe The Office is just getting tired. It isn't doing nearly as many things poorly as it did last year, as there aren't all of the overtly awful Andy Bernard moments, but at the end of the half hour, it just doesn't seem like the sitcom accomplished what it wanted to with the episode.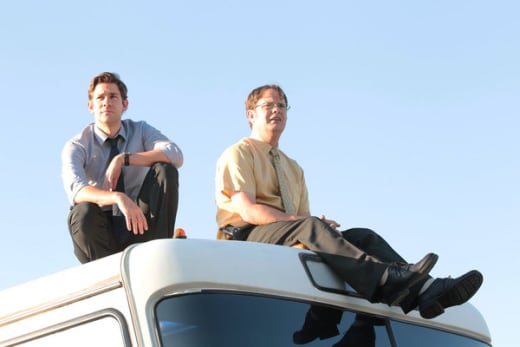 Still, there are usually going to be those bits that keep you coming back, like the aforementioned Kevin gags. Whether it was the fact that he could do math for pies but not salads, his inability to rhyme on the roll call or how badly he wanted Oscar to throw a pie in his face, the big man was on fire this week.
Unfortunately, the rest of said "roll call" was embarrassing to watch. I just felt bad that they actually wrote that into the script. Good thing Kevin was there to save the awkwardness with his stupidity.
The whole reason the gang ended up on the bus was because Jim pranked Dwight into thinking a bag of popcorn had microwaved itself in the office. It wasn't one of Jim's more elaborate or funny tricks, but if he had done what Dwight thought he had (flooded the building with electromagnetism), it truly would have been genius. Evil...but genius.
Some other highlights from "Work Bus."
Meredith yells at Erin to lose weight and her reply is "I'm trying."
Creed skipping work in that awesome outfit.
Andy: Banana cream's the first to go. We'll be lucky to get pumpkin at this point.
Erin explaining to Nellie not to mention that adopted children are surrendered.
Andy: She'll make a wonderful mother to any child who can overlook weird accents.
What did you all think of the episode? What was the funniest moment from "Work Bus?" And is your hooky outfit as cool as Creed's? Check out our The Office quotes section, and then sound off in the comments.
Dan Forcella is a TV Fanatic Staff Writer. Follow him on Twitter.