With just over a week to go until The Vampire Diaries Season 4 kicks off, I was fortunate enough to view an advanced copy of the opening two episodes, "Growing Pains" and "Memorial."
What is Elena like as a member of the undead? Does Michael Trevino make a convincing Klaus? What steps does Bonnie take to save her friend? Consider yourself spoiler warned and read on for a mini rundown...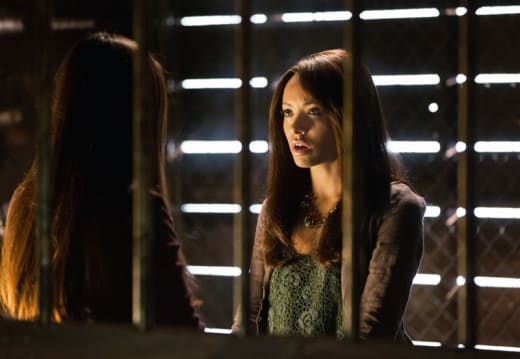 The Council will play a significant role. Look for power players to rise up and demotions to take place.
Bonnie pays a major price to try and save Elena from becoming a vampire. It involves both a special spell and an interaction with Klaus.
There is seriously hot Stelena action... but it concludes in a less-than-sexy way.
Elena drinks Damon's blood. But does she enjoy it?
Damon is still very much in mourning over Alaric. But aren't we all?!?
We learn something new about Jeremy.
A character makes a surprising return in one of the two installments.
Soak up all these spoilers, fire away with comments over what you are most excited about - and meet me back here the moment next Thursday's premiere ends for a much longer, more detailed recap and review!
Matt Richenthal is the Editor in Chief of TV Fanatic. Follow him on Twitter and on Google+.