The battles continued on Monday night as The Voice delivered talent, emotion and laughs once again. Who did enough to stay in the competition? And who was sent home? Let's take a look at each and every battle of the night...
Team Blake - Julio Cesar Castillo vs. Terisa Griffin - "Conga"
The Battle: I can't believe Blake chose this song for these two. It is pretty awful for both of them in theory, and that was obvious from their initial reactions. But wow, they must have practiced a whole lot, because they both killed those super-fast moments. I guess Blake knew what he was doing. The slower moments were great as well, but I expected that from these two. What makes this battle so difficult is that they ARE so different.
My Choice: Julio
Blake's Choice: Julio
Battle Grade: B+
Steal: Cee Lo steals Terisa because she has that connection with people.  You can't pretend that."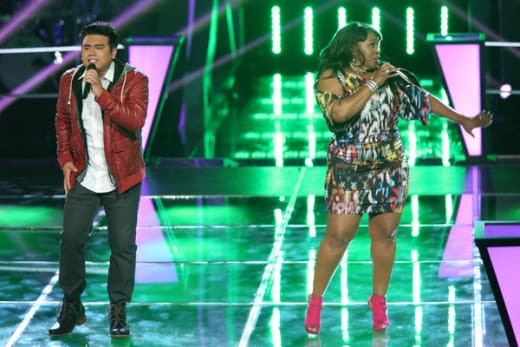 Team Xtina - Dez Duron vs. Paulina - "Just the Way You Are"
The Battle: Did Christina just tell someone not to throw runs into her performance? I never thought I would hear that. Dez is super dreamy, but he admittedly can't hit a high note. Thankfully for him, he kept the entire performance in his lower register.  Paulina, on the other hand, seemingly can hit any note she wants, but I was a bit more confused by her part of the song. I'm not sure if I liked all of the quirks and changes she did to the track, or if I think she was trying way too hard and therefore ruined it.
My choice: Dez
Xtina's choice: Dez
Battle Grade: B-
Team Adam - Benji vs. Sam James - "You Give Love a Bad Name"
The Battle: Sam sounded fine, but he also sounded like any other rocker out there on this track. Benji, on the other hand, had an interesting tone that you would expect to hear in a performance like this, and then added some ridiculously fun screams and yells for good measure.
My choice: Benji
Adam's choice: Sam
Battle Grade: B
Team Cee Lo - Nicholas David vs. Todd Kessler - "She's Gone"
The Battle: These guys have a lot in common, right down to the big bushy beards. I thought that this might be over after hearing Nicholas's first lines, but when Todd came in I changed my mind. This was just a serious battle between two worthy foes. They both have strong interesting tones, but Nicholas's is just a bit stronger overall.
My choice: Nicholas
Cee Lo's choice: Nicholas
Battle Grade: A-
Team Blake - Lelia Broussard vs. Suzanna Choffel - "Dog Days Are Over"
The Battle: Blake picked a Florence and the Machine song because they're so huge right now, so he chose their track from 2008.  Maybe Suzanna didn't have the power that can be brought to this song, and maybe Lelia didn't have the perfect pitch we expect at this point, but both were still pretty great. That is one of my favorite songs, and they did a great job with it. These two definitely are similar, which makes a decision like this even more difficult.
My choice: Suzanna
Blake's choice: Suzanna
Battle Grade: A-
Team Xtina - Joselyn Rivera vs. Sylvia Yacoub - "Best Thing I Never Had"
The Battle: Did the Green Day guy seriously say "with great power comes great responsibility?" After watching these two girls practice I was prepared to choose Joselyn based solely on Sylvia's penchant for extending her runs way too much. Unfortunately for Xtina, Sylvia really held herself in check, which makes this choice much more difficult.  Both girls sounded great, and because neither did a whole lot to distinguish herself from the other, I would have gone with Joselyn because she seems more in control.
My choice: Joselyn
Xtina's choice: Sylvia
Battle Grade: B+
Steal: Adam and Blake both go for the steal! Blake calls Adam out for bull crap, and then tells Joselyn that he loves her, but she goes with Adam. Was she weirded out by the "I love you" bit, or upset that he forgot her question?
------------
Which battle was your favorite of the night? Who are you rooting for to win from this group of singers? Did any contestant get screwed? And how are you liking the "steal?"
Dan Forcella is a TV Fanatic Staff Writer. Follow him on Twitter.