The extended teams of 16 may end up paying dividends down the road in the third season of The Voice, but for right now, they just seemed to make the blind auditions last much too long.
All four coaches added their final two team members on Monday night, which means next week we move onto the Battle Rounds. The superstars had some funny bits and the performers had some serious talent, but Carson Daly's awkward behavior was definitely the highlight of the night.
Between his "I knew it!" when the coaches turned for Nathalie - clapping like he's Brendan Fraser - and the look of such concern when he uttered "Come on Cee Lo!" when the coach wouldn't turn around, Carson made for a bunch of unintentional comedy on this final night of auditions.
Most of us were watching for the singers, though, so I digress. Let's take a look a how the coaches rounded out their teams, who has the best squad moving into the next round, and which was the most successful at securing performers throughout the season...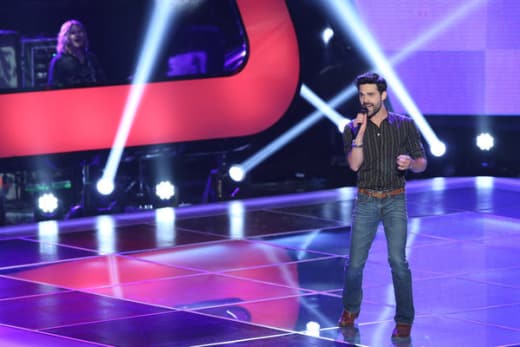 Team Xtina
Monday: 2-for-3, Total: 16-for-29 (55%)
Since so many of these contestants were listening to her as kids, Xtina took the season three trophy for best pleading, earning performers at 55% a clip. She started the final night of auditions by beating Blake and Adam out for Nathalie Hernandez.
Nathalie's rasp did it for both Xtina and Blake immediately. Adam turned much later in the performance, which was surprising, because she started to get really off pitch through the middle of the performance.
Later on in the night, Christina became the second coach to fill up a team, topping Blake and Cee Lo for the rights to Celica Westbrook. The 16-year-old from my old stomping grounds (suburban Nashville) wowed everyone with "A Thousand Years." What she did so well was sounding powerful before ever even releasing the power that she did in fact have.
Team Adam
Monday: 2-for-3, Total: 16-for-30 (53%)
Adam, who it always seemed had the best arguments for contestants to join his team, was a very respectable 53% on the season. To start the final night of auditions he started out with Caitlin Michele, a 20-year-old who used music to get over her panic attacks. Her "Cosmic Love" sounded good, but it felt much more like a Florence impersonation than a true performance. She certainly may be something way more than that, but this audition didn't feel authentic.
The first to fill up his squad of 16, Adam later beat out Xtina and Cee Lo to Kayla Nevarez. If this were a different show, I might say that Kayla had "The X Factor." As soon as she started with "American Boy" you could tell she was great.  Obviously that didn't change as she continued throughout the performance.
Team Blake
Monday: 2-for-6, Total: 16-for-36 (44%)
Less successful, admittedly because he doesn't give it his best every time he turns around, Blake finished in third with a rate of 44%. Before wrestling with Cee Lo as the final two coaches without a full team, Shufflin' Shelton scooped up Nicole Johnson. Her transition into falsetto right off the bat won me over, but it was her rich tone towards the middle of the performance that probably got everyone else on board.
Rudy Parris completed Blake's squad. This 46-year-old had to give up his dream when he had a baby, but now his baby is all grown up with a baby of her own.  Rudy's "Every Breath You Take" was a bit of a fusion of rock and country, so it intrigued Cee Lo, but the country thang is what pulled him to Blake's squad at the end of the day.
Team Cee Lo
Monday: 2-for-6, Total: 16-for-44 (36%)
Do you think if Cee Lo attempted to sell himself that he would do better at this? His 36% left him last place for season three, but like everybody else, he has 16 contestants ready to duke it out for the championship.
First to be added to his squad was Merida from Disney Pixar's Brave. Wait, no, it was Chevonne, who is a backup singer for Lady Gaga. Hey, being a backup singer for someone famous worked for Jermaine Paul last year, could magic strike twice?  We shall see.
To end the night, we witnessed one of the best reactions yet on The Voice. Cody Belew was absolutely shocked when he realized Cee Lo actually had pressed his button. It was a ridiculous amount of excitement, but it seemed genuine, so I loved it. It helped that Cody was fan-frickin'-tastic with his "Hard to Handle." I'm not sure how you can't love the growl that Cody had in this performance.
----------------
Who do you think was the best of the night? Which team is in the best shape? Any predictions for a winner in the early going? Are you excited for the new format to the Battle Rounds?
Dan Forcella is a TV Fanatic Staff Writer. Follow him on Twitter.