Well... we all have to wait until next week to find out who has made it into The X Factor's Top 16.
Fortunately, we were held over with a whole bunch of talent from the Old Geezers and Teens categories. Sure, there were a couple of misses here and there, but like I've said many times already this season, there just seems to be much more talent this year than in 2011.
Let's take a look at who is in good shape to make it through to the live shows, and who might be in danger of heading home. Remember only four can make it through from each category...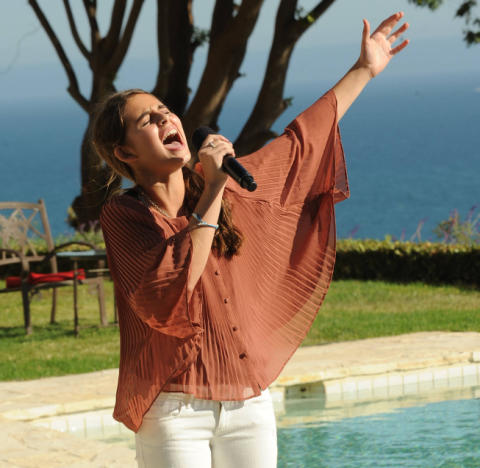 Old Geezers
1. David Correy: While I still think The X Factor isn't as good of a strategy for finding his birth mom as actually going somewhere to find her, I still love this guy. That was a fantastic audition. He has the extra factor, AND a great voice. Loved him. Bieber's manager said it was pure passion.
2. Daryl Black: This was a weird way of showing his audition. I felt like we didn't really get to see him perform like we should have. What we did see seemed like a quality vocal though. It wasn't anything shocking, but it was good. Bieber's manager said he would do well with a band behind him.
3. Tara Simon: If you say "I wanna be America's darling" you probably won't be. She seemed way too soft at the beginning of her audition, but yeah, she built up to some pretty darn big moments. Bieber's manager said she had a big voice.
4. Vino Alan: He definitely has a powerful voice, but my question would be can he win over America? Can he get the votes? I like him, but he might be pretty divisive. Bieber's manager said that Vino was petrified.
5. Jason Brock: He definitely has a great voice, but I'm not sure I enjoy his tone when he's belting. It all sounds a bit off. Bieber's manager said you need more than just a strong vocal.
6. Tate Stevens: I still don't get how he made it to this round. I feel like I could see him in any bar on Broadway in Nashville. Bieber's manager said he's easy to root for.  I disagreed. 
Teens
1. Carly Rose Sonenclar: Can a 13-year old really have as much emotion in them as Carly showed us in that performance? That was some serious stuff. The power, the control, the tenderness, it all worked.
2. Diamond White: That's America's darling right there. She sounds like a grown woman without sounding too old for her age. In that performance she was equally fantastic at the loud belting moments and the soft tender moments. That was awesome. "Flawless...to the point where it's not fair," Beatrice said.
3. Beatrice Miller: I love that she asked everyone if they were all sick to their stomachs like she was. She must not have the most confidence in the world, but I liked that realism out of her.  When Beatrice sang within two seconds of Carly last week it was obvious that her voice was weaker, but out there by herself?  That great tone and emotion to her voice were much more evident than ever before.
4. Arin Ray: There wasn't much to that because of the song choice, but his voice sounded great. There is certainly a million times more talent on this season of The X Factor. It was like pulling teeth to find enough people to fill out a final last year. 
5. Reed Deming: He was compared to Bieber earlier in this competition, but Bieber never had a voice like THAT at Reed's age. He's also cute, but maybe a bit too cute to go all the way.
6. James Tanner: Did they splice the interview over his performance so we wouldn't have to listen to it? Maybe I'm biased against people who aren't singing, but. he. wasn't. singing. What we did get to see didn't interest me.
--------------
So next week is when a number of these people will be heart broken. Are you excited to see who makes it through? Or are you more taken by the performances we witnessed this week?  Which were your favorites? Who are you rooting for to win the whole thing at this point? And which group of contestants has the best chance to go furthest?
Dan Forcella is a TV Fanatic Staff Writer. Follow him on Twitter.