Tim Matheson Speaks on Directing Hart of Dixie, Letting Lemon Go and More
Kate Brooks at .
And... we're off on Hart of Dixie Season 2!
Following an entertaining premiere, I jumped on the phone with Tim Matheson (who directed "I Fall to Pieces") and talked to the veteran actor about Brick Breeland; his adoration for Rachel Bilson and Jaime King; as well as my collegiate softball career.
Don't worry, I cut the final part out of the following Q&A. But read on for some fun Hart of Dixie scoop, including whether or not Brick himself will get lucky this fall...
-------------------------------------------
I loved the premiere. What was it like to direct?
It was really quite an honor to be asked to do it. I could be biased, but it's one of my favorite casts to work with; everybody is so good. It's a unique situation that I've only experienced once or twice before; where I get to act with the other actors, so you have this visceral kind of intimate connection with these people. Then I get to work with them behind the camera. I also did this on Burn Notice; it's very rewarding. I'm a very lucky guy.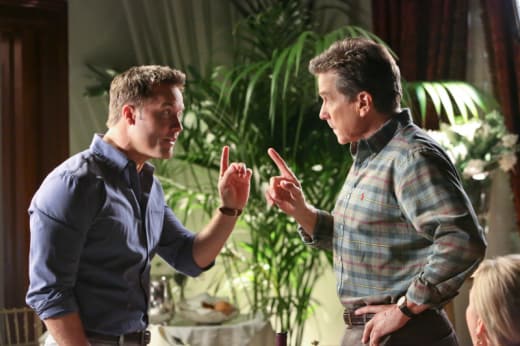 Is there a natural progression from going in front of the camera to behind?
Yes and no. When you're acting, it's very subjective. You take care of only your end of the deal. You immerse yourself into your character and you justify all of the things you're saying. As a director, it's not just about getting your performance, it's about managing the crew, managing your time and choosing what's important cinematically to help tell the story. They are different kinds of roles, in that regard. So you're serving a lot of masters as a director, but as an actor you're really just serving an inner truth and the story.
What attracted you to the role of Brick Breeland. He's kind of a jerk!
I did sort of see that he was the nemesis to the extent he's the counterpoint of Zoe coming to this town and she really is interfering with this "thing." I loved that was the intention of the author, but in the south one can be in opposition of somebody and yet still have a gentlemanly veneer, seemingly nice, but underneath it is nothing but venom. I liked that kind of character that says one thing and then feels another underneath it.
Brick obviously has some romantic feelings for Emily. Are we going to be getting more of that? Poor guy hasn't had much in the romantic department?
I [as Brick] was actually smooching on the couch last night with Emily.
There definitely is action with Emily?
Yes, and then there is a lot of twists and turns in his romantic life this season. So far we've done several and there will be many more crazier and crazier happening in his romantic world.
Lemon has moved out. Is he going to have a hard time letting her go or is he going to step back and let her be?
It is a hard thing to let her go. Selfishly because she runs the family in the house and she takes care of stuff so he doesn't have to and we get into that. Also him having to deal with the fact that he hasn't been much of a father in many ways. Ultimately, at some point, you say, "well yeah, they should go" and step back. Otherwise it's selfish to keep holding on.
We saw in the first season a lot of denial from Brick about his wife leaving him. Are we going to touch base on that some more? Is Brick going to finally realize that it's time to move on?
Exactly. I think you need to close that door on one chapter before you can move onto the next. You need to accept that that is over and he was using that as an excuse not to engage and he had some fairytale explanation and rationalization about what it was. I think a lot of that has to do with accepting the responsibility of a break up. It's a part of life and you just have to suck it up, face it, and move on. Otherwise you get stuck in it.
What do you think should be answered about Brick this season? What would like to see more of from Brick?
I love Brick's interaction with his children because I am deeply involved with my kids. I do love that they are allowing Brick to have a love life and the ups and downs of a divorced mature man who has grown kids. In a show that is cute and as young as ours, you don't want to spend too much time on it but it's nice to explore that aspect of that.
I also enjoy the medical aspect of the show and the medical interactions of Zoe and Brick. I directed my first episode ("Heart to Hart") and I loved that interaction with Zoe and her father. I find the medical aspect very interesting. We have a great consultant and doctor who was the tech consultant on ER. He knows how to coach us and explain to us what's going on so we know what we're doing.
We saw Brick kind of warm up to Zoe towards the end of the first season. In last night's episode he wasn't too happy with her because she was the reason George ended his engagement with Lemon. Will he ever fully accept Zoe; treat her as an equal? Or is that push and pull what makes their relationship so good?
I think he respects her. She is his daughter's age and he can relate to her on that level, she has also accomplished a lot as a person. But I think there is a part of him that doesn't accept her. I think her problems have caused a lot of difficulties for Lemon and Brick and his life would be a lot easier if she hadn't showed up. I think there is a lot of resentment and Brick's life would be a lot simpler if she went away.
I have to tell you, I didn't really like Brick when we first met him, I thought he was just such a jerk and now Brick and Lemon are some of my two favorites on the show. The Breelands definitely grow on you.
Honestly, there is not another actress that could play Lemon. Jaime is just so great. I'm the luckiest guy in town I get to go to work and work with Rachel, who is so talented, simple, honest and truthful in a very straightforward way. Then there is the most complex and devious character in the world is Lemon and Jaime... I don't know if anyone else could make you angry and laugh like she can.
Hart of Dixie follows up its premiere with "Always on My Mind," airing Tuesday, October 9 at 8/7c.