Breakups are tough. And just like Walden proved on Two and a Half Men this week, they can lead you to do insane things.
On "A Big Bag of Dog," our resident tech genius went a little bit of his rails, from building a castle made up of Legos for Zoey to creepily collecting Zoey's pictures. Walden was seriously not himself tonight.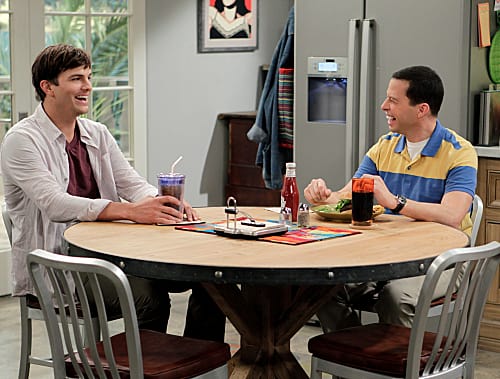 Anyone, who has gone through a bad split will sympathize with the man. Loving Zoey as he did, it is not unreasonable to see him behave the way he did.
And, of course, his gang of family and friends were present to either help him or haunt him. There was Patton Oswalt's Billy teasing him, even rubbing in the fact that he is dating his ex-wife. 
There was Walden's mother, who tried to help, but just made matters worse. And there was Berta, who we all knew would offer no real assistance.
What helped Walden finally get over Zoey was a huge dog, which Alan aptly named Dogzilla. Depositing that canine in Zoey apartment was a sneaky move, but Ava naming the dog was just icing on the cake.
At some point, I think the writers have to flesh out a storyline for Alan; for much of last season, and so far this season, he has just been like comic relief, providing zingers and one-liners, all of which you can read in our Two and a Half Men quotes section.
Like I said last Thursday, I can't wait to get rid of Zoey and see more of Jake and his army life. Who else is with me?