Tonight, as we tuned in for a new episode of Up All Night, Reagan and Chris's television tuned out. Without Ramona and the other desperate housewives to keep them company, the young couple began to wonder if their marriage was also out of electricity.
"Swingers" explored the awkward silence that can permeate a relationship and just how deafening it can be.
Reagan gave us the first nostalgia of the night when she told Chris to blow on the cable cord like people used to do to old Nintendo games. For many fans of the show, I'll bet this ritual was probably one of the earliest superstitions or myths they bought into. No proof of its effectiveness ever existed I don't think. It worked enough times, though, that multitudes of people, myself included, swore by it. I was/am guilty of owning a rain stick as well. The longer Ava let that scene go, the harder I laughed.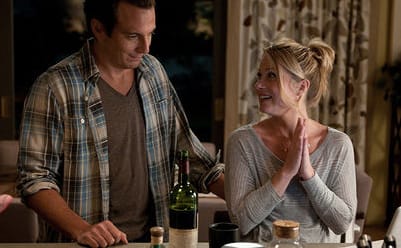 Reagan's description of the Waffle House death couple was absolutely spot on and topped my list of Up All Night quotes this week. While she and Chris didn't exactly fly through the air with the greatest of ease, they most certainly do not stink as a couple. Before Chris got gun shy about the back yard shag, he and Reagan were really cute as they drunkenly shared things about themselves the other had never heard. 
Elsewhere, Ava used a term with which I am not familiar: frogging popcorn. I owe her a thank you for that, as well as many a nod of approval for her attempts to defend her inner hoarder.
Scott tried to share with Ava what he learned from his own time of struggle in what was a good message and scene. Even if his twist list freaked her out. It seems like they are heading for a most certain hook up, but I hope the two stay friends for now and the writers let the sexual tension build if that is indeed where they are going. Scott is such a great addition to the gang, but Ava is a little too unstable and day drunk too often right now. 
What did you think?