666 Park Avenue Review: You Can't Leave the Drake

Sean McKenna at .
For a show that's all about high class and high scares, sometimes I wonder if the glossy feel of 666 Park Avenue makes it hard to get beyond the pretty sights and really send some shivers down your spine.
Don't get me wrong, the characters are all likable in their own respects.
Take a simple scene like Brian and Henry jogging together and you've already got a great bromance brewing because of their charisma and personalities. I couldn't help but laugh when Brian said congratulations with that "whoops" face after he told Henry not to get married.
It's the same way Dave Annable brings a realism to Henry, providing that passion and love towards Jane. When he says, "I love you," I believe him. There's a sincerity in his performance, whether he's talking about being a bad ass or waiting for Jane to come back to the room so he can propose.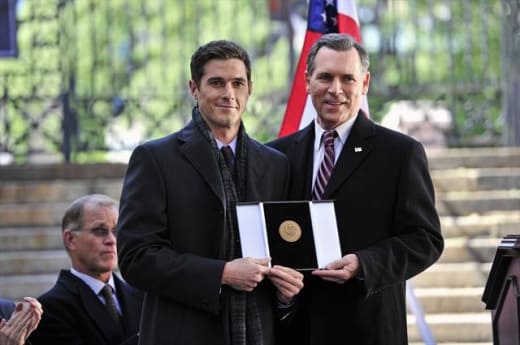 Even the characters that aren't really the good guys find their way into the likable category. Gavin maintains that cunning and craft, while Alexis gives those sexy and dangerous smiles. These two really know how to toy with people's emotions.
Alexis definitely knows how to turn up the naughty meter with things getting hot and heavy with Brian. Poor guy. He was tricked by a hot seductress. I can only imagine him trying to explain that to Louise.
It was interesting that Olivia decided to play Gavin's game and use the lipstick that sent Victor into a seizure. Is she as innocent as we'd like to believe?
But even with the characters, "Downward Spiral" didn't provide the most compelling of stories.
Sure, discovering Jane is a child of the Drake was interesting, as was Nona's ability to mind jump during dreams. Even the whole Doctor and Kandinsky teaming up should have shocker consequences (although I feel like Kandinsky's KGB routine is running more and more cliche).
But when Jane realized that she was "meant" to go down the secret staircase after magically understanding her necklace was the eye to the mosaic, it felt silly. And the fact that she told Nona to let her go by herself down into the unknown didn't make sense either.
I guess Jane's ability to run away from the scary problems was a fleeting moment and it was really her "destiny" to embrace them.
Which makes me wonder more and more the powers of the Drake and the powers of Gavin. Is he supposed to be all knowing and all powerful? Or just sometimes? Or when he can convince people?
Gavin seems to have a bad aura that's representative of the apartment complex, but do either know Jane is heading further in? What does her discovery even mean?
Truthfully, I find the collapsing relationships a bit more entertaining because we've seen each grow and form throughout the episodes, while the whole mystery and suspense angle just keeps popping in here and there without a ton of rhyme or reason.
I know it'll all be explained at some point (I hope), but I'm worried the show will get too wrapped up in the secrets of the Drake.
This was a fair episode, but the story wasn't as nearly as engaging as it wanted to be. It all looked good like usual, but I'm really hoping we get some more substance when it comes to the mounting mysteries on top of the pretty looking visuals.
Sean McKenna was a TV Fanatic Staff Writer. He retired in May of 2017. Follow him on Twitter.