No matter what Naomi does, she's destined to get screwed. Should everyone on 90210 just stop plotting and scheming already? Nah, then we'd have no show!
But "Hate 2 Love" really did showcase how bad Naomi's luck has been lately. In her quest to keep Max, she has pretty much drowned his entire business.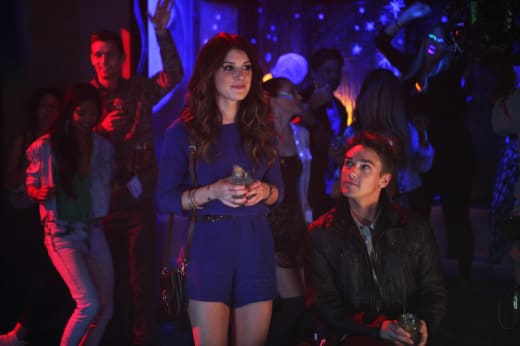 As endearing as Max's efforts to create peace between the two most important people in his life can be he's overlooking one major point: His business partner and best friend kissed his wife and had it photographed just to mess with him and prove her guilty. I said it last week and I'll say it again: I don't know how the blame fell on Naomi for this one.
Now, in a move that was like "taking candy from a baby," Colin was able to use Naomi to hack into Alec's phone and then the whole server of Max's company. Was this Colin's intention all along? I thought the girls met him and he sent over drinks when he recognized Silver from her nude photos. Then again, I shouldn't be surprised that Colin turned out to be a douche nozzle because Annie has dated some real hot messes over the years; including the time she spent as an escort.
Liam was Annie's best boyfriend, but now they are basically complete strangers to each other. Though I loved "Lannie," it turns out that I might actually prefer him with Silver. Well, it's not so much that I prefer Liam with Silver, so much as I prefer Silver not with Navid.
What happened to Navid anyway? He used to be the moral guy on this show, the one who sent Adrianna to rehab because he loved her so much and who took his own father to task when he found out about the underage porn stars. He's made quite the 180.
Using a sex tape to take someone down is never the answer; doesn't Navid watch Gossip Girl? At least it's not the answer if you want to win in any way shape or form. Liam will hate him, Silver will hate him and Dixon is a witness who will probably side with Liam considering what a jerk Navid was to him last week. 
Dixon and Ade are a whole other mess. Honestly, they just don't belong together anymore. Granted, she shouldn't be cheating, but they should face the music and the fact that there were major problems in their relationship before the accident even happened. Riley's advice in that respect was pretty spot on. And if Ade isn't interested in being with Taylor, please send him my number thanks.
Taylor pretty much had the best line of the night when he was talking to Navid:
I can't keep all with all the drama in your crew. | permalink
Wes Brown, this isn't your first go-around on a CW soap. I expect you to know the ropes by now!
Truthfully, it's hard to have a teen drama on for a bunch of years and not shake up the different relationships. You don't want things to be monotonous and then all these shipper wars start and fandoms go crazy. But if you can't sell the chemistry, it shouldn't be in the storyline. I think for the past few years, most of the couples on this show could sell things well and when they no longer couldn't, they called it quits.
It seems like the time has come again for the relationship evaluation on 90210. What do you guys think? Who should stay together and who should finally split? Hit the comments!