Beverly Hills, what a thrill! When Max wanted to take Naomi on a camping trip, things weren't quite as fun as they were in Troop Beverly Hills, but there were interesting developments nonetheless.
"Into the Wild" was all about Naomi trying to tell Max about that certain kiss.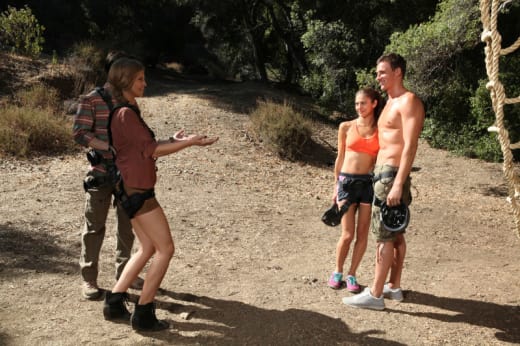 Here's a refresher: Two weeks ago, Naomi Clark-Miller - as she's apparently calling herself - attempted to butter up her husband's business partner Alec. Little did she know that Alec was setting her up in order to make it look like they kissed and she betrayed Max. Somehow in this whole equation, Alec told Max what he did and Max ended up mad at Naomi for NOT telling him.
Max wasn't mad that his best friend and business partner set up his wife to make it look like they were kissing. Instead, he was peeved Naomi didn't share it with him right away. Did it ever occur to Max that Naomi was scared of his exact reaction? She was afraid he wouldn't believe her, would turn away from her and ultimately side with Alec no matter what. I'd say Naomi's fears were confirmed. Yes, trust is important, but shouldn't that trust extend to believing that your husband's business partner isn't scheming against you?
I'm Team Naomi on this one, sorry Max.
Speaking of trusting people, Silver should know better than to sign off on having nude photographs taken without reading the fine print. I know she's stressed, but have the words "nude photos" ever ended up linked to something positive in a sentence? No. It always ends up that they were leaked, hacked and are now all over the Internet. I have to say that this new side of Silver could be interesting, though. If it makes her feel sexy and more alive then sure, go for it.
Adrianna got a little too into the pole dance training. Did she really think that the dancing and performing a sexy song for Taylor was going to result in nothing happening? Fat chance. He's hot, she's hot, it was the perfect moment for something to transpire. From the looks of the previews, a lot more will continue to happen next week. I would just hate to see Dixon so heartbroken, especially when he's got crappy people in his life like Navid.
Navid was very harsh. How could he speak that way to one of his best friends? Since when is Navid all about "image?" Ummm... your dad owned a porn studio and hired underage girls, nice try. Good thing Liam is able to be a good friend while he tries to sway his business teacher into thinking he's a serious student. She's a little judgmental considering she doesn't know the kid, but we shall see what happens.
Oh yeah, Ryan Lochte had a cameo and it was not even close to as funny as his 30 Rock one. What did you all think of this week's episode? Hit the comments!