Burn Notice Review: Some Spy That I Used To Know
Jim Garner at .
Picking up seconds after the ending of last week's return, we hit the ground running on Burn Notice, with Sam confronting Michael about shooting Card. 
I have a new respect for Sam Axe. I've known that Sam has been Michael's substitute conscious at times, helping him use his powers for good instead of evil. What I wasn't expecting was how personal Sam was going to take Michael's slip to the dark side.
Even when he felt that Michael had gone "Over the Line" he stood by his friend and tried to lead Olivia Riley on a goose chase. Thankfully, Michael has just as much dedication to Sam and didn't let him.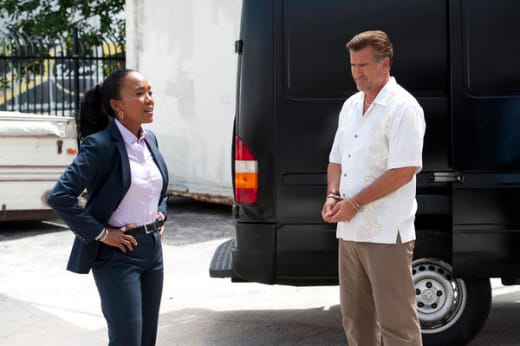 Speaking of Riley, she is both the smartest CIA agent Michael has interacted with and the most heartless. Sure, Card tried to have Michael killed, but down deep he cared about him. Riley makes Card and Anson appear of warm and fuzzy given how she made it very clear that she couldn't give a rat's ass about Michael, Fiona, Jesse or Sam. Look no further than our Burn Notice quotes section for strong examples. 
Her brains combined with that attitude are going to mean very bad things for our favorite burned spy. 
Oh, and let's be clear: Michael is not only burned again, he actually burned himself this time. Six years ago he was setup for crimes he didn't commit and since was able to clear his name. Here, he killed his CIA mentor after he put his weapon away. I don't see how he is going to clear his name this time around.
At least Madeline and he have made up, a little. It was great that she went into "spy mom" mode and took notes on what the agent and cop were talking about for him. Sharon Gless has done such an amazing job portraying the pain, anger and near rage of a grieving parent. When I spoke to Jeffrey Donovan last week he took time to mention how amazing she was to work with.
So the big question now is: What's next? With Senior Agent Riley on his tail, things are not going to be easy for Michael and company. I suspect that life is going to get bleaker in Miami, but we have to remember it is always darkest before its dawn. Or so goes the over used cliche saying, right? 
Jim G. is a TV Fanatic Staff Writer. Follow him on Twitter.