Candice Accola Exclusive: What is the State of Forwood?
Matt Richenthal at .
Breathe easy, Forwood fans.
Following a tense few moments on The Vampire Diaries last week, during which Caroline questioned Tyler's relationship with Hayley and believed her man cheated on her while training in the Appalachians, viewers wondered if this might be it for the cute couple.
But Candice Accola made it clear as can be on the phone yesterday:
"They are stronger than ever," the actress said. "And Caroline's intention is to keep it that way. She 110% trusts Tyler."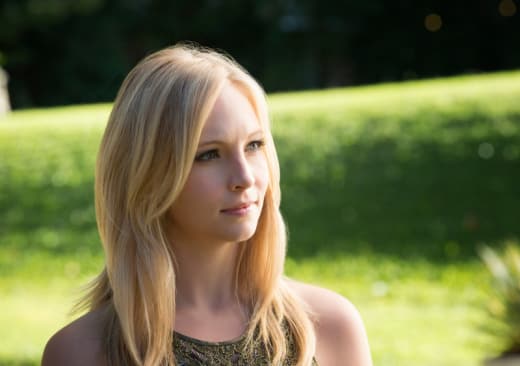 In fact, on tonight's "We All Go a Little Mad Sometimes," we'll delve further into the Tyler/Hayley friendship, while Accola says Caroline will make it her mission to "completely support" Tyler's goal of de-siring more Hybrids.
What about her BFF, Elena, who will be suffering from some serious hallucinations?
"Caroline will there for her as much as she can be. But it's hard for Elena to talk to Caroline because it's been so easy for her. Her transition was atypical in how she caught on a lot quicker."
That's certainly true. The character sky-rocketed in popularity and confidence ever since Katherine made that bloody move in that hospital room oh so long ago. So what about this buzzed-about cure? Would Caroline even take it? Would she want to return to human form?
"I think it's too early to tell," Accola said, unsure of her answer. "She really is stronger than she ever has been as a vampire. She's more secure, very sure of her moral compass. So we'd have to see her go through a whole other transition again the other way."
But the star did tease one upcoming development related to the cure: Everybody will find out about it.
We'll also see a lot more of Caroline with two of the show's leading men.
First: Stefan. Viewers were treated to an interesting scene between the characters a few weeks ago, with Stefan asking Caroline to keep an eye on him in case of any Ripper-like tendencies returning. What else can we expect from these pals in the future?
"You'll definitely see that friendship develop," Accola says. "The parallel that runs through both of their lives right now is that Stefan is trying to do right by Elena even if he doesn't agree with her choices, while Caroline is doing the same with Tyler."
Second: Klaus. At least one already-released Vampire Diaries photo makes it look like this Original still has feelings for Caroline. Are they reciprocated at all?
"They will interact more, I'll say that. They really are fun to watch together because they love to play games. I think that's what makes it so appealing and sexy for fans. Caroline is usually manipulating Klaus. But does that go both ways? Is he just toying with her?"
It's hard to say, but Accola did end the interview sure of one thing. Offered the chance to pen her own diary entry, following last Thursday's return of Elena and Stefan putting their thoughts to paper, the actress laughed and scoffed.
"Caroline doesn't keep a diary. She's too busy watching The Real Housewives."
Matt Richenthal is the Editor in Chief of TV Fanatic. Follow him on Twitter and on Google+.