Castle played one for the band this Monday... at least what was left of it after a member was murdered with his own guitar.
"Swan Song" had our Round Table team of TV Fanatic staffers Jim Garner, Carla Day and Christine Orlando (plus Castle fan Wayne from The 12th Fan Forum) all abuzz, trying to decide if this mockumentary was a hit or a miss.
Read on and weigh in now!
-------------------------------------------
What was your favorite scene from the episode?
Jim: Loved Beckett leading camera crew into closet and sticking her tongue out at them right at the end.
Carla:  I'm with Jim. I absolutely adored the final scene with Beckett. I love when she shows her fun side and it was the perfect conclusion to the episode.
Wayne: When Rick and Kate were called into Gates office. They looked like two teenagers being busted by a principal for kissing in school. It also seemed like the boys played the song as a distraction for Gates thereby saving Rick and Kate from Gates.
Christine: I loved when Rick explained that he just wanted the camera to see what he sees. He's so darn proud of Kate and he wanted her to be the star, even though that's the last thing Kate wanted.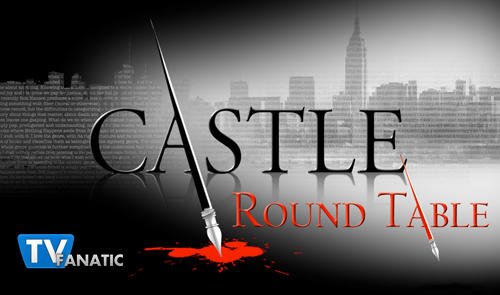 Did you enjoy the documentary format?
Jim: The camera work was cool, but I hated everyone except Beckett being a camera hog or hamming it up.
Carla:  At first it annoyed me. I didn't like the shaky-cam style or that the characters were playing up to the cameras, but about half way through, I began to appreciate it. It worked for this episode.
Wayne:  I enjoyed the format for trying something different. I like how the actors always were looking at the camera crew. Some were hogs for the camera and other's like Kate and Ryan were very shy. I loved the look on Kate's face every time one of the team was mugging for the crew.
Christine: Honestly, I kind of hated it. It felt like everyone was just playing a caricature of themselves. I appreciate the creativity but this format just didn't do it for me. I'll be happy to get back to a regularly awesome Castle episode next week.
Who wore the tighter shirt: Lanie or Esposito?
Jim: Tie. Lanie had better facial expressions.
Carla: That's a toss up. Gotta also go with a tie.
Wayne: It has got to be Lanie. HELLO, the girls were being shown off for the camera.
Christine: I actually think Esposito's shirt got tighter every time we saw him... not that I'm complaining.
Did you think Gates was going to find out the truth? Should she have?
Jim: I knew something would happen to prevent it. Good question. Maybe she should.
Carla:  No. I didn't. I'm not sure why, but I figured Beckett and Castle would find a way out of it. This wasn't the right time or way for her to find out. Besides, the video that upset her was too hilarious not to use.
Wayne: No, this is not the time for Gates to find out about Caskett yet. I think Andrew Marlowe is saving it for something bigger.
Christine: I actually found myself hoping she'd find out the truth although I didn't think it was going to happen in this episode. I think it's time the truth came out.
What do you think Rick and Kate did to make their video moment go away?
Jim: We saw them talk to the director when she closed the curtain.
Carla: Convinced the filmmakers of their true love and that they shouldn't interfere or risk that.
Wayne: Maybe Rick offered to fund the documentary in returned for the lost scene.
Christine: I'd like to think that true love won out, but I'm more likely to believe that Castle offered to fund their next project if that recording went missing.
C. Orlando is a TV Fanatic Staff Writer. Follow her on Twitter.