Tonight's Criminal Minds served as a brilliant and heartfelt backdrop to a story that serves as a grateful nod to military veterans. 
It had it all: personal sacrifice, honor, "no one left behind" and, most importantly, appreciation for the personal sacrifice of our nations' military.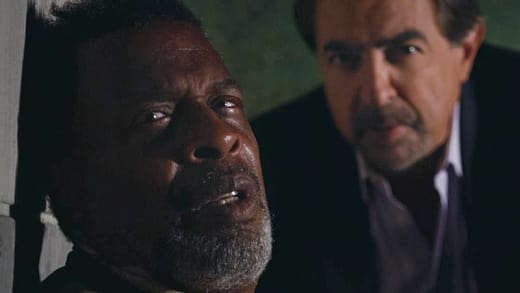 The UnSub in "The Fallen" became unhinged after being ironically kicked off his firefighter job because he had contracted TB after saving two infected homeless people from a fire. The twig in his mind evidently snapped to the extent where he felt an OCD compulsion to "cleanse" the homeless population through the liberal use of fire and bleach. 

In this case, the more compelling story - that of the history of Rossi and Sergeant Harrison Scott - became entangled with the UnSub's when Scott grew determined to help his fellow homeless friends not become victims of Mr. Clean. How cool to see that first 1969 flashback - to the tune of "Born on the Bayou" - when we saw Rossi at age 19, reporting to Sergeant Clark.
Particularly revealing is the motivation for Rossi, a man who - as recalled by this week's revealing interview with Joe Mantegna - is independently wealthy and still feels the need to work in the BAU:
Rossi: Do you know why I joined the FBI?
Sergeant Scott: If you say...
Rossi: Because of you. You can say the Corps changed me, or the war. But it was you who made me honest. | permalink
This compelling second second story also painted a picture as to why this particular veteran - Sergeant Scott - ended up turning to the bottle.  There are so many veterans who end up this way, each with their own unique story. This served, I think, as just one possibility.  
Rossi: Why don't you come back with me? I can get you a room.
Sergeant Scott: This is my home David.
Rossi: This is no way for a war hero to live.
Sergeant Scott: Do you know how many veterans are on the street?
Rossi: Too many.
Sergeant Scott: More every day. | permalink
Sergeant Scott had lived with a secret for too many years: that, in a time where the nation sneered at Vietnam vets, he had been ordered to take credit for the actions of a third Marine (Private 1st Class Anthony Hernandez) who had thrown himself on a bomb in order to save Rossi and Scott. He seemed to be punishing himself by drinking and living among the homeless: typical and just one of the countless stories of veterans who live on the streets today.
Rossi: Hernandez? But why?
Sergeant Scott: Why did he do it? Or why did I take credit?
Rossi: Both.
Sergeant Scott: The short answer is: I was ordered to. We were fighting a PR war back home. The government needed a face - a living face - to parade around to solicit support for an unpopular war. I was chosen.
Rossi: And Hernandez?
Sergeant Scott: He was paying a debt. He was being a Marine. He died so that we could live.
Rossi: And you couldn't tell anyone. | permalink
So moving to see the final scene, where Hernandez is finally honored, and to see his grandson accept the posthumous award on his behalf. I know it's just a story but sometimes you can't help being affected, especially when watching Rossi and Scott hugging at the end.
Rossi: Welcome home Marine. Semper Fi.
Sergeant Scott: Oorah. | permalink
I applaud the writers of this episode for telling a story of pride and honor, during a week in which grateful nations remembers their warriors, both living and fallen.
Final thoughts: 
In case you're wondering why Sergeant Scott looks so familiar: Meshach Taylor (Sergeant Scott) played as Anthony Bouvier on Designing Women.  (Not that I ever watched the show.  *cough*)
Correction:  Michelle Trachtenberg has been cast as a stalker, not Reid's love interest, in an episode which will feature Reid's mysterious love interest.  The episode airs early next year.
Visit our updated section of Criminal Minds quotes now.
So what did you think of tonight's episode, and in particular, its revelation around Rossi's passion for the BAU?
Douglas Wolfe was a staff writer for TV Fanatic. He retired in 2016. Follow him on Twitter
.