The countdown is on. With only a few episodes remaining in the final season of Gossip Girl, the series tries to bring it this week. Let's discuss "Save the Last Chance."
Is Derena Back On? Things looked promising when the hour started off with Dan and Serena still in bed together. The two decided they need to make amends with their friends before they even think about getting back together and letting people know about it. Mission accomplished.
So these two are back together. Good idea? Doubtful. Looks like Good Guy Dan really is long gone, proving so when Georgina made a quick appearance to find out that S will be the next chapter. Sorry, Serena, your luck hasn't improved yet.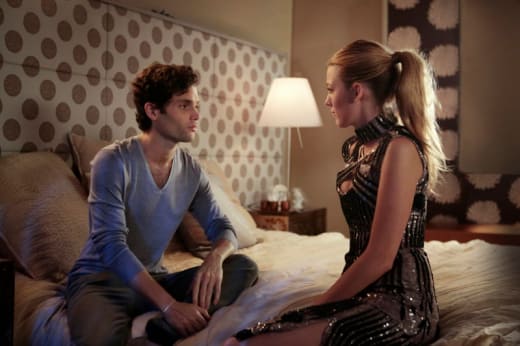 Basshole Drama. This arc needs to come to an end. Not only did it take up the majority of the installment, but it led nowhere once again. Father and son fight for drama. Ex-husband brings evidence to ex-wife who burns it. Somehow in this mess, Ivy ended up half naked. Pretty much the only good part to come out of it. Ivy tried to make deals with the Bass' to destroy Lily. Didn't happen. Chuck tried to stop Lily from burning the evidence. Didn't happen. Really, the same as other episodes this season. A lot of build up for nothing big to come out of it.
At least there were some interesting new relationships. Bart became Nate's partner so he can own him. This won't last long. If there is one thing that Man Bangs is good for, it is standing up to the elder Bass. Gorgeous and tough. Thank you, CW, for putting Chase Crawford on our screen every week. Now just get him to take his shirt off. It's been a few weeks...
In a completely creepy twist, Ivy is digging her claws into another older man. Welcome back, Billy Baldwin! Serena's absentee father returned to make out with Ivy and prove the two had been working together to destroy Lily (called it)! William didn't seem to interested in the scratchy throat vixen by the end of the hour. Could this all be a plot to destroy Ivy? 
Anyone else think that Ivy with William is creepier than being with Rufus?
Speaking of Rufus: what are you thinking about returning the evidence to Lily? Girl dropped you when her dead husband showed up. You can not possibly be that nice!
Queen B Returns. Blair's pop up show was a success, even with the scheming of Sage and the other high school minions. Best part about it? B brought back the headband! Worst part about it? Her success highlighted Chuck's failure, as he now thinks they can't be together anymore. Make a decision, you two.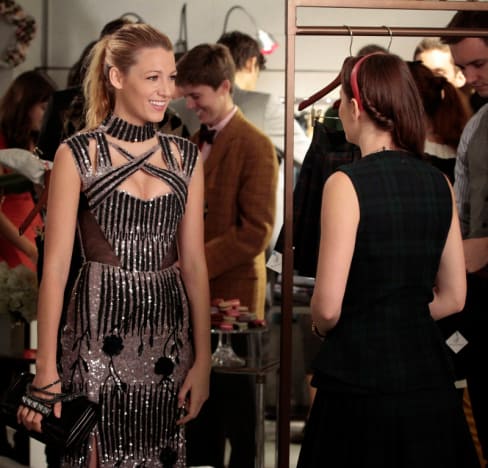 Overall, a pretty solid episode for the final season of GG. What did you think, TV Fanatics? Was "Save The Last Chance" up to par for an episode so close to the end? Check back for the Gossip Girl Round Table and visit our Gossip Girl quotes for the top stinging one-liners.  
With only three episodes left, what is going to happen to our favorite Upper East Siders? Sound off below and check out next week's Gossip Girl promo. Until next time, GG fans. XOXO.