Gossip Girl finally found a little bit of its groove again with the aptly-named "Monstrous Ball."
After a strong premiere, Gossip Girl Season 6 quickly lost steam. The characters have felt like they're through the motions at times in the buildup to the finale. There are always fun moments, but overall, it's been slow.
Hopefully tonight signified the momentum building once again as we head into the back half of this abbreviated final chapter in anticipation of a conclusion that can at least send the show into retirement on a high note.
Tonight's Cotillion-themed episode was all about alliances past, present and future, with the characters jockeying for position and trying desperately to take the reins in life, even if it was at the expense of their peers.
In almost every case, best laid plans blew up in their faces.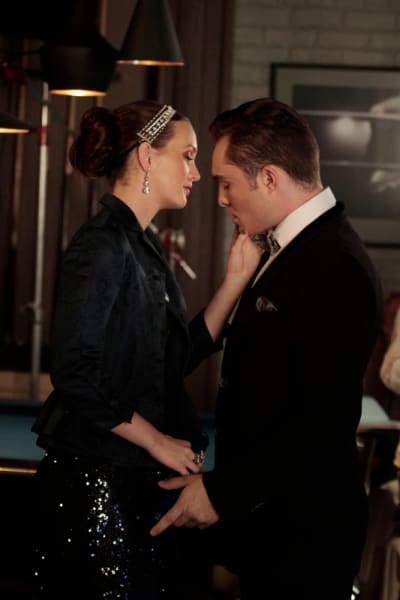 Convoluted as the plot was at times, at least some things happened that reverberated throughout the Upper East Side and altered the trajectory of the season a bit, which hasn't been the case in previous weeks.
Blair and Sage were determined to make the former's company a success with the latter's Cotillion attire making for one provocative coming out party and offering her a chance to dethrone her dad's big proposal.
Serena was concerned about Steven's attitude, but after some sleuthing, found out why. Sadly, or perhaps for the best in retrospect, his daughter's undermining derailed any hope of Serena and Steven getting engaged.
After stealing G's phone in the least believable run-in/misplaced electronic device Gossip Girl has ever thrown at us, the girl in the sex dress treated us to a screening of the Dan-Serena sex tape from the Season 5 finale.
Dan and Georgina ... okay, that's not even really a tandem at this point. G is just a crazy literary agent and pot-stirrer gone rogue. A true wild card with the night's most memorable quotes, but nobody's ally.
Georgina was impressed with Sage's gumption. Steven was irate with his daughter, but also upset with his would-be fiancee's actions. B was crushed by the tape; S was devastated that B and Sage were in cahoots.
Fans were probably just hoping that this marked the last of the Spences on GG.
The sex tape's long-awaited release certainly didn't lack for collateral damage. PG-rated as it was, no one came away clean. Dan came away with some phone numbers; he was as close to a winner as there was.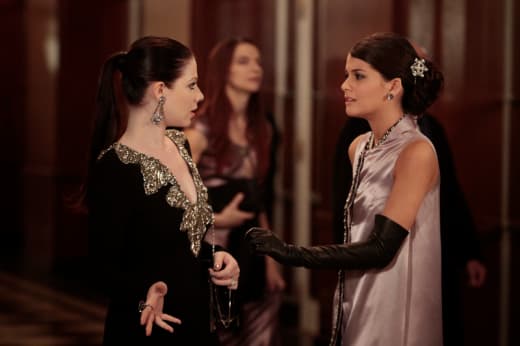 Perhaps the most upsetting facet of tonight was yet another setback to the Blair and Serena's relationship that has been a cornerstone of GG since the pilot. As she said, it's been a long time since they were friends.
If they're going to find their way back to each other by December 17, the clock's ticking. The pursuit of a common enemy might help them mend fences, but it's sad to see how wide the rift between them has grown.
Ironically, if any relationships were strengthened tonight, they were Blair and Chuck - which Dan spent a good portion of the evening trying to unravel - and Dan and Serena, who wallowed in their mutual humiliation.
The surviving members of Dair Nation may have briefly felt a tingle up their collective leg, but it was clear by the end that no matter how ridiculous the Chair pact may sound, they are committed to it wholly.
Even as Chuck and Ivy's plan hit a roadblock when they couldn't turn Lily and Bart against each other (at least for the time being), and when Dan hoped to ruin Chuck in his true love's eyes, Chair didn't break.
The Chuck chapter of Dan's novel didn't have the desired effect. Nor did his efforts to worm his way back into the emotional opening he saw between that necklace and her ring finger. Lonely Boy got the heave-ho.
Hey, maybe there's a Derena reconciliation on the horizon. The diner scene definitely hinted that we're headed in that direction going forward. Wonder if missionary works for her ... in the fashion sense, that is.
Meanwhile, Nate and Sage and Rufus and Ivy continued to vie for the honor of least appropriate (and sadly, useful) couple. Poor Rufus. So maligned by his ex-wife and the show's writers simultaneously.
Overall, better, Gossip Girl. Not great, but better to say the least. Let's keep it going and see what happens heading into the final month of episodes and give this once-great series the sendoff it deserves.
Before we turn it over to your comments, here's next week's CW promo:
What did you think of this very "Monstrous Ball"? Sound off below ...
Steve Marsi is the Managing Editor of TV Fanatic. Follow him on Google+ or email him here.