Jeffrey Donovan Previews Return of Burn Notice, Teases "Personal" Season 7
Matt Richenthal at .
Burn Notice is back! Okay, it will be back in a few hours, when Michael Westen and company return to begin the end run of Season 6 in "Means & Ends."
What can fans expect from this run of episodes? What about a seventh season?
TV Fanatic jumped on the phone with fellow reporters to chat with Jeffrey Donovan about what's to come, gathering intel from the actor that includes a character more focused on revenge than ever before...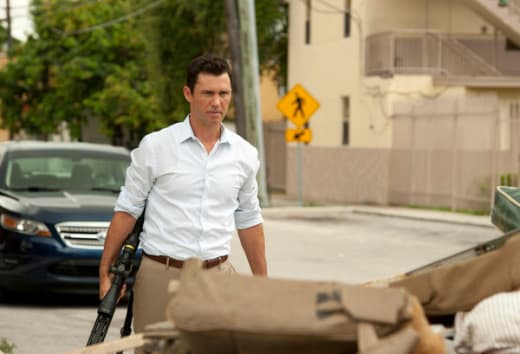 "This last part of [Burn Notice Season 6] focuses on Nate's death, finding that killer and bringing him to justice," teased Donovan. "You'll see a more of a hell bent Michael... And then at the end of the season, you know, it's a bit of a cliffhanger."
No, we don't know. Give us more!
"There's a huge event that happens between Michael and Fiona that will propel Season 7 - which if all goes as planned, will be a very different kind of Burn Notice because of the trajectory, but no less kind of dangerous for Michael... I think it'll be more personal next year than it will be professional."
As for the rest of this year, viewers can expect the relationship that Michael has with Gray and Card "to turn Michael down a path that leads even Sam to question Michael's integrity. And I think that's what the fans are going to really be interested in: How dark will Michael go?"
While fans ponder that big question, Donovan said he foresees Season 7 being the final one for Burn Notice, while adding Season 6 will conclude with a "huge betrayal."
Let the guessing games begin and visit TV Fanatic the moment "Means & Ends" wraps up for a detailed review!
UPDATE: USA has confirmed a 13-episode seventh season!

Matt Richenthal is the Editor in Chief of TV Fanatic. Follow him on Twitter and on Google+.