While NCIS has been a primarily character-driven show, "Shell Shock Part I" was a exception, with the focus on the case. It was a very good one, too. Captain Westcott appeared to be suffering from severe PTSD, attacking a random person for no reason.
But there was more to the story, as the person he attacked was one of the men in the ambush in Afghanistan that made him into the damaged man he is today.
"Shell Shock, Part II," meanwhile, was unique in that the case was still fantastic, but we also enjoyed a good deal of the episode focusing on the characters as well, primarily Gibbs.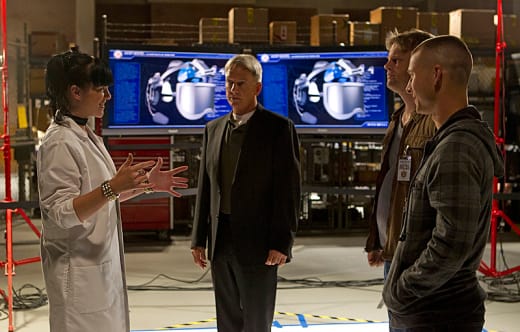 I've watched NCIS since the beginning of the series, and we don't often get to see an emotional side of Gibbs. The man is brilliant, solves cases, rarely smiles, and gives Dinozzo head-slaps on a regular basis - but that is it. This episode was an exception. 
While his focus continued to be on tracking down Cursey and neutralizing his plans, he became just as devoted to Westcott and making it clear to him that he's not alone; there are people who care about him.
This was especially important because Wescott's own father doesn't even given a damn, and his primary concern is just leaving so that he can get back to work. Gibbs truly cares. 
As he said himself, he used to be be on the other side and sent men like Westcott home all the time, hoping that they would be okay. This time, he had the chance to help. And he did.
Abby's ittle virtual reality experiment didn't help much in jogging Wescott's memory, but Gibbs was pure genius in his interrogation of Cursey when he got him pissed off enough to spit on Westcott's team member's picture, throwing Westcott into a rage and triggering the memory that Cursey's girlfriend is the accomplice.
That then triggered the memory that Cursey didn't drag Hall away with Hall begging his Captain for help. Westcott pulled Hall out of the line of fire instead. He didn't make it, but he certainly wasn't the coward he had always thought he was.
Harmon did an absolutely excellent job in this episode, as it shed a light on a part of the character that we rarely see. The only other recent episode I can remember where we get to see this side of Gibbs was the Season 6 episode "Broken Bird," where Gibbs helps Ducky deal with the trauma of knowing that he euthanized a man out of mercy while being in the military as a physician. As cold as Gibbs may seem at times, there is truly a big, warm heart underneath.
And, don't worry, Tiva shippers, I haven't forgotten about you. "Beach picnic, impromptu dancing, and the Opera" - the big three. 
DiNozzo was just obsessed to find out who Ziva is going to the opera with. After enough harassment, she finally revealed she was going alone to honor her deceased sister because she loved the opera so much, and it was her birthday.
The downside was the opera being out. What DiNozzo did next should tell us all that he truly does have deep feelings for Ziva. She didn't get tickets to that opera, but he made a CD of it for her to listen to, making it like she was there. Now, that's real chemistry going on there. 
Some say this is going to be the season for Tiva, and I can't wait to find out!