Our NCIS review broke down the conclusion of "Shell Shock," last week's episode of TV's #1 show, in detail.
Now, TV Fanatic staff members Steve Marsi, Mary Powers and Eric Hochberger have assembled for our weekly Round Table Q&A discussion of various events from this week's solid installment.
Join in as we analyze the outstanding PTSD-centric two-part story arc and all things therein!
----------------------------------
1. Describe this episode in one word (or two, or three, or four).

Steve: Personal and powerful.
Mary: Mucho-fabulous! Both parts, but especially Part II due to the character development for Gibbs.
Eric: More intense than I expected.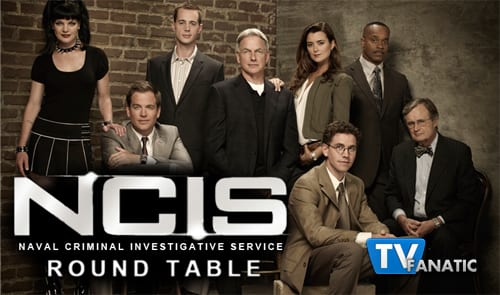 2. Best quotes or scenes from "Shell Shock"?
Steve: I realize this is basically saying the whole two hours, but Gibbs' dual mission of solving the case while making it clear to Westcott that he's not alone struck a great balance. On a lighter note (of which there were fewer than usual with good reason), everybody knowing what the "big three" are was pretty funny.
Mary: My absolute favorite quote was from Part II: Tony: "Yep, the big three. Beach picnics, impromptu dancing, and the opera". Favorite scene: The closing scene when Tony gives Ziva the CD of the opera in honor of her sister Tali. 
Eric: "You're a bad ass, agent Gibbs." Indeed.
3. Biggest gripe with the episode, if any?

Steve: It's typically hard to find them on NCIS, but even harder than usual this week.
Mary: I have no gripes about either parts. The case, character development, and even the cute humor between Tony and Ziva was fantastic.
Eric: I'll save my usual complaints about not seeing enough of certain characters because this week really was about the case, and I've been very satisfied with the season as a whole.
4. Did you like the focus on PTSD?
Steve: I did, especially how it was given two full hours to show the depth of this particular case. Powerful stuff and highly emotional, knowing that for so many veterans, there is no Gibbs to shepherd them through the tough times upon returning to U.S. soil. One touch I really liked was referring to the condition as just "PTS," dropping the D and perhaps part of the stigma as well.
Mary: I thought the focus on PTSD was good because it is a very serious problem and certainly needs to be addressed. But, I think the best part was how Gibbs handled it and helped Captain Westcott. The episode wasn't so much about catching the bad guy - instead, it was as much about helping the victim, which is what I think made these two episodes unique.
Eric: Yes, and Brad Beyer did a great job as Westcott. The emptiness in his eyes was so convincing, and the storyline played out in such a way that we saw multiple dimensions of his character and struggle.
5. Tony and Ziva: Will they take things further or was this just another tease?

Steve: They sure are hinting at a real relationship lately, aren't they? The Tiva teases are increasing in both volume and depth. This week's gesture by Tony was rooted in genuine compassion and concern for Ziva; whether it turns romantic remains to be seen. For the most part, Gary Glasberg and the rest of the show's brain trust are doing a fine job handling a potentially polarizing situation.
Mary: I think Tony and Ziva are the real deal. Think back to how Tony acted in earlier seasons, especially when there was an implied chemistry between Tony and Caitlin Todd. Back then, that Tony was the child-like Tony, flirting with Caitlin with his juvenile, cheesy jokes. Now, with Ziva, it's more serious. Making that opera CD for Ziva was a huge step and a strong indication that Tony's feelings are real.
Eric: As I've said before, I'm hoping things keep progressing between them because it feels natural and not rushed, all these years later. That said, I hope the writers tread carefully because Tony and Ziva are always at their best (to me) when doing actual casework (below), and I'd hate to see that at all compromised.
6. NCIS team MVP of the week?
Steve: The whole team was great, especially our fearless leader, but I gotta give it to Westcott for overcoming his demons, and to the writers for portraying his vulnerability in such a harrowing, honest way.
Mary: The NCIS MVP of the week without a doubt was Mark Harmon. He stole the show with his performance. Just give him the Emmy already!
Eric: Agree with Mary on MH. I know for whatever reason the Emmys don't consider programs of this genre but after 10 seasons (and a star on the Hollywood Walk of Fame) he deserves a Best Actor nod!
7. Any other closing thoughts?

Steve: Keep up the good work? Looking forward to tomorrow night as well as the Christmas episode.
Mary: I truly enjoyed "Shell Shock I & II" and would probably put them in my top 5. NCIS isn't known for its cases, and except for a handful, they are for the most part boring. NCIS is more of a character-driven show. These two weeks had a fantastic case focusing on hot topic of PTSD, but at the same time, was very much centered on the characters, primarily Gibbs. This is extremely rare, and if I had to give these episodes a grade, it definitely would be an A+.
Eric: Probably my second favorite this season after "Lost at Sea." Loving NCIS Season 10 so far.
What's your take on these issues of the week on NCIS? Discuss below!
Steve Marsi is the Managing Editor of TV Fanatic. Follow him on Google+ or email him here.