Sunday night's episode of Revenge featured several truly OMG-worthy moments, while setting the stage for the next chapters of the beloved ABC guilty pleasure with new twists and side plots galore.
TV Fanatic's Steve Marsi, Matt Richenthal, Christine Orlando and Leigh Raines break down all facets of "Illusion" and look ahead to the coming weeks in our weekly Round Table Q&A discussion.
Weigh in with your own responses to these Revenge topics below!
-------------------------------------------
1. What was your favorite quote or scene from "Illusion"?
Leigh: The end scene with Mason Treadwell connecting everybody with the red string had me completely on edge. Loved it. Even if Juliet Sharp did it first on Gossip Girl Season 4.
Christine: When Conrad repeated Victoria's words back to her because they finally made sense. "Wake up tomorrow as a family." I couldn't help but laugh. Victoria is just deliciously evil.
Matt: Emily talking to Aiden at the wedding. And dancing there with Daniel. And just standing inside the Grayson household for the occasion. Basically… Emily in that red dress.
Steve: "Mr. Bond." So great. Also, you have to love how Emily and others hold those evil, steely-eyed Revengey looks for a good second or two. So unabashedly soapy sometimes - and I love it.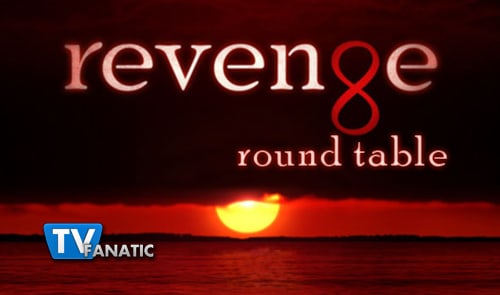 2. Best Revenge fashion statement of the week?
Leigh: Emily in that red dress was stunning. Is there even a contest?
Christine: Emily's red dress. Wow was the only response. Worst was Victoria's wedding gown. Hated it!
Matt: In order to not repeat my first answer, I'll go with Victoria's wedding dress. Vera Wang, you've done it again!
Steve: Confession time ... I shamelessly came up with this question just to talk about Emily's red dress. Un. Real. Seems to be her color of choice this fall. Victoria's icy gray wedding gown and black bouquet were classic, too.
3. Should Emily and Aiden hook up?
Leigh: YES. Somebody on this show needs to hook up and I'd rather it not be nauseating Ashley and Daniel.
Christine: I think I'm still hoping for a Daniel / Emily hook up. They have more chemistry, although Aiden's growing on me. Still, I'm always happy when Emily shows him the door.
Matt: Yes. The guy has a British accent! Close your eyes, Ems, and you could imagine kissing Robert Pattinson or Prince Harry.
Steve: I like how they're setting that up, while also reintroducing Daniel's feelings for her. As if the show wasn't juicy enough, we could have a full-blown love triangle in our midst before long.
4. More dangerous to the Hamptons: Mason or Kara?
Leigh: Kara. Kara is crazy, you don't know what to expect from her. Mason may be figuring things out, but he can be taken out quite easily.
Christine: Mason is an arrogant, egotistical, weasel but Kara... she's insane. Treadwell can be led around by the nose if you know how. Kara's much harder to control which is what makes her so dangerous.
Matt: Mason. Let me go off on a tangent and say I'm disappointed in the introduction of Kara. After such build-up toward the arrival of Emily's mother, she's almost TOO mysterious so far. We really have no idea what her deal is, making it difficult to get invested. I was expecting some OMG moment when she met her daughter, but was let down because the audience had already met Kara so long beforehand.
Steve: Over the long run? Kara is probably more of a wild card. On a more immediate basis? Mason needs to get dealt with ... and having seen what Emily and Aiden are capable of, may very well be.
5. What is the Initiative plotting?
Leigh: Honestly I have no idea. I feel like we have barely scratched the surface of the Initiative.
Christine: Goodness only knows but it seems to be a long term plan and for some reason they need Conrad to get it done.
Matt: They're taking down Takeda. First Emily lost one father figure. Next, she'll lose another.
Steve: Confession time ... I shamelessly came up with this question just to see if anyone else had any good theories. I honestly have no idea, but the fact that it's on par with (if not bigger than) the plot that ruined David Clarke's life is scary. Emily's going to need all the allies she can get to take on this organization.
6. Will Jack and Amanda actually get married?
Leigh: Yes I think that they will. And that makes me nervous per question #7.
Christine: Yes. I think his feelings of responsibility towards Amanda and their son will drive him straight to the altar.
Matt: Yes. I think Jack goes through with it, especially considering the baby really is his. He's too good of a guy.
Steve: No. If you ask him right now, he'd obviously say yes because he's a loving, responsible, stand-up guy. A lot can happen between now and then, however, including the reveal of Emily's true identity.
7. Whose body will be found in the ocean?
Leigh: The body in the ocean had a wedding ring on. Is it going to be Jack? Maybe it'll be Kenny?
Christine: OK. I know I'm evil but I'm hoping it's Jack, although I'm starting to feel a little guilty about it now that he has a child. He's just so boring. I've had enough of the Porter boys.
Matt: Tyler's. That guy just can't catch a break!
Steve: I can't say I want Jack to go down with the ship, but that would be a jaw-dropper if Revenge is bold enough to do it. What would the circumstances be, though? And how would Emily respond?
What do you think? Sound off in the comments!
Steve Marsi is the Managing Editor of TV Fanatic. Follow him on Google+ or email him here.