After weeks of false starts, backtracking and an almost complete lack of focus on moving the overarching plots forward, along came "The Children's Crusade" to finally make Revolution interesting again.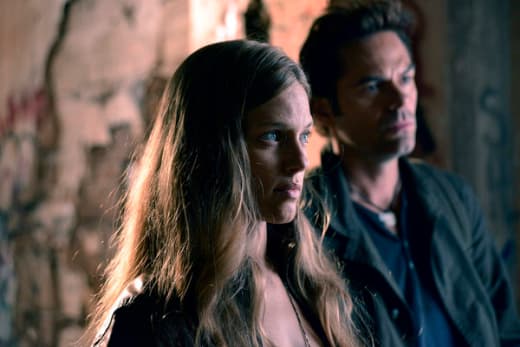 I always appreciate when a show takes a moment to expand upon the emotional repercussions of the stories and main themes that are woven throughout each episode, and the Kid Nation did a wonderful job of reminding us that the survivors of this blackout are not just teenagers and adults but young children as well. 
These orphaned kids took it upon themselves to create a big surrogate family in the wake of their losses, and they did so rather admirably. This bigger theme of family was present throughout the episode, and their mostly intact innocence was tantamount to this family they created. These children recognize love and loss better than most of the adults. They are not concerned with power and territory or machines and weapons - but rather with sticking together and looking out for each other. Like all children, they have a sense of what is right and wrong, nor are they shy about sharing those opinions. They know the adults in this world are corrupt.
Kid Nation serves as a great exploration in Rachel's character, especially as Rachel continues to be the richest person on Revolution.
Rachel is a strategist. Almost of her actions are always for the betterment of her family or for their safety, and Rachel knows the corrupt adults in her surroundings. Her flashbacks proved as much, as Rachel was willing to overlook the slimy Department of Defense Flynn if it meant Danny could get the life-saving surgery he needs to survive through labor.
Rachel's same master plan worked through her dealings with Monroe and the pendants as well. She was willing to feed Monroe the knowledge he sought so long as Danny was safe, even if it meant going against the people she worked with developing low cost power generators (that ended up having the opposite affect, naturally).
Yet, for all of her planning, Rachel sometimes doesn't account for all the variables, such Bradley's daughter being used to siphon information out of him. It seems Rachel knew of the steps that were going to happen with Bradley in Monroe's custody, but from the look of sheer terror and heartbreak on her face for his daughter, it's hard to imagine she had any clue that advice or information would truly go this far.
Still, Rachel's presence wasn't the best part of the hour. No, that came courtesy to Miles and Charlie finally catching wind of the pendant Aaron's been keeping safe. There are a multitude of differing ideas about what to do with the pendant: Aaron wants to bring to Grace, Miles wants to destroy it and Charlie is most likely undecided.
The pendant presents this double edge sword for Miles and company because as they head closer and closer to Danny, they also head into more and more danger as Monroe wants the pendants and Rachel is no doubt accounting for the fact that the pendants are far away from Miles; yet Ben's final wishes are for Aaron to make that delivery, and Grace just so happens to be on Monroe's compound. So it's not hard to speculate that all of these sides are eventually going to come together. That's one fight I can't wait to see.
Two more thoughts:
Flynn is seriously creepy.
It's nice to see Grace pop back up on my screen after her kidnapping, but she was captured by a man equipped with a pendant and Taser stick.  Something isn't adding up here.
Finally, Miles totally wins tonight's quote competition:
It's irritating when a dumb kid tells you what to do, isn't it? | permalink