Ms. Levinson-Gould I presume? That's right, Jan returned to the fold to The Office, attempting to shove her new job at the White Pages in David Wallace's face.
It was Dwight's practice for, and attempts at, selling to her that highlighted "The Whale." The frustration on the faces of the women of Dunder-Mifflin was pretty great as Dwight showed no signs of compassion while practicing his pitch.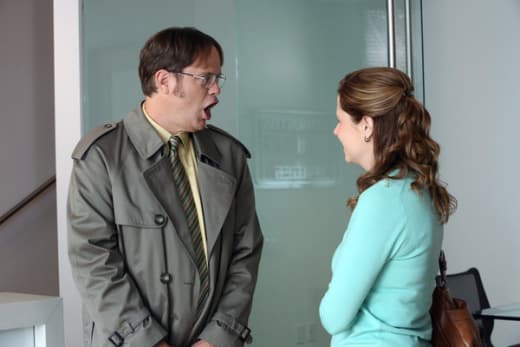 His smile-and-nod was definitely not the answer, though. Well, not if his goal was to not creep out anyone in his vicinity. If his goal was to seem like a complete psycho, then it worked perfectly! I, for one, couldn't stop laughing at his stupid looking face.
Melora Hardin's return as Jan was definitely a welcome appearance. Her all-around meanness combined with the hilarity of her singing over Astrid's slideshow were a joy to watch.
What continued to be much less interesting to watch were Jim and his issues with the new company. I couldn't care less about the issues he was facing with teleconferencing.
While not all that funny, I did enjoy watching Oscar and Angela sneak around to spy on the Senator. The double heartbreak of Oscar seeing the Senator playing grab-ass with the yoga guy, and then Angela realizing what's been going on behind her back, was difficult to take... but in a good way. I hated that it was happening, but it was needed for the story to continue.
Check out some of our favorite moments from "The Whale" and then hit up our The Office quotes section.
Toby: Smile if you love men's prostates. | permalink
Nellie (about Dwight): I'm gonna get nightmares with that face. | permalink
Dwight: It's business women and their power suits and their shoulder pads. Don't lie about your shoulders. | permalink
Dwight: He used to fight dogs.
Pam: Like he used to make dogs fight or he actually fought dogs?
Dwight: Little of this, little of that. | permalink
Dwight: Your daughter could be a bubble bath model. I could just bite her head off. | permalink
What did you all think of the episode? Was it one of your favorites? Or did you not like it at all? What was the funniest moment from the half hour?
Dan Forcella is a TV Fanatic Staff Writer. Follow him on Twitter.