Following a Thanksgiving-themed performance show, The X Factor moved right along tonight, family time and football be damned.
The Fox competition eliminated two more singers, knocking its number of finalists down to eight. Did you agree with the cuts? Were they fair or - pardon the obvious pun - fowl?
Read on and then vote on the results...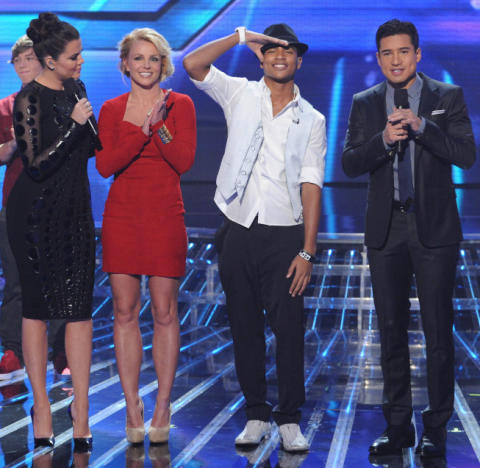 The results were in early and the contestant with the fewest numbers of votes overall was... ARIN RAY! He received the early boot, as mentor Britney Spears did not even offer her crooner a warm embrace.
"I think you should just take this as a learning experience," she simply said.
Following a performance by Cher Lloyd, it was then revealed that Beatrice Miller and CeCe Frey were in the bottom two. Their showdown songs? "Because of You" for Frey and "White Flag" for Miller.
With only Britney casting a vote for Miller, she became the second finalist sent home.
"I just want to tell my sisters that I love them and I'm sorry," Beatrice said to close the evening.
So... did the right acts go home? Sound off now:
Matt Richenthal is the Editor in Chief of TV Fanatic. Follow him on Twitter and on Google+.