The X Factor Top 10 took to the stage tonight in a special Thanksgiving-themed episode of the Fox singing competition.
Who laid an egg? Who stuffed his/her performance with holiday goodness? How many Turkey Day-related puns can we make in this review? Find out below!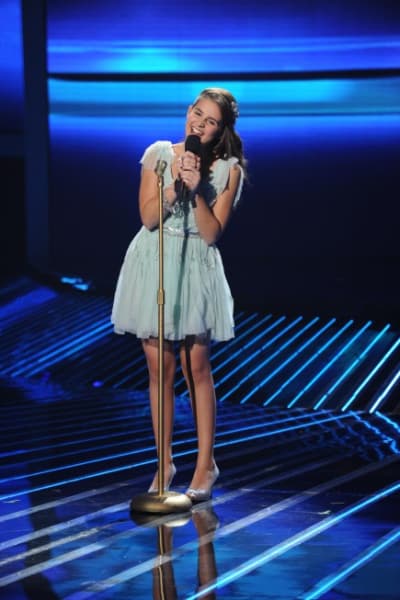 Tate Stevens, "I'm Already There" - Consistent, strong, perfectly suitable for who many consider to be the front-runner. Britney calls it "special."
Diamond White, "Because You Loved Me" - Demi is "blown away" and rightfully so. Sung in honor of her mother, this teen really is "fearless and incredible," as dubbed by Simon.
Emblem3, "Secrets" - Blah. This group is all flash and little substance. Simon may have been down with the song choice, but we're with L.A. Where was the emotion?
Arin Ray, "Hero" - He dedicates the inspiring ballad to his brother. In related news, we're very sorry to Arin Ray's brother. This was simply dreadful.
CeCe Frey, "Wind Beneath My Wings" - In memory of her late sister, who passed away at the age of seven from Cerebral Palsy. The pain showed through here in her voice. She's moving on.
Fifth Harmony, "I'll Stand By You" - Easily the best group performance. Very well done on the arrangement and vocals that blow Emblem3 away. All four judges were on board.
Beatrice Miller, "Chasing Cars" - A personal favorite as a song… but when not rendition. An odd choice for Miller, though Britney believes it was her "best vocal performance by far." We don't agree. Do you?
Vino Alan, "Proud to be an American" - Yes, he actually held a flag in his hand. WAY too contrived and cheesy.
Paige Thomas, "Everytime" - Always tough to sing the song of a judge, but Thomas doesn't embarrass herself. Britney was a fan, though L.A., Simon and Demi all think she may be voted off tomorrow night.
Carly Rose Sonenclar, "Somewhere Over the Rainbow" - Someone had to sing it, but I'm glad it was Sonenclar. Beautiful all around. This is a unique talent who won't be going anywhere any time soon.
Who was YOUR favorite, TV Fanatics? And who do you see going home on Thanksgiving Eve?
Matt Richenthal is the Editor in Chief of TV Fanatic. Follow him on Twitter and on Google+.