Can Carly Rose stay on top? Will CeCe Frey finally sing her way out of the competition? How low can Khloe Kardashian sink as host?
Enough with the pressing X Factor questions... on to this week's performances!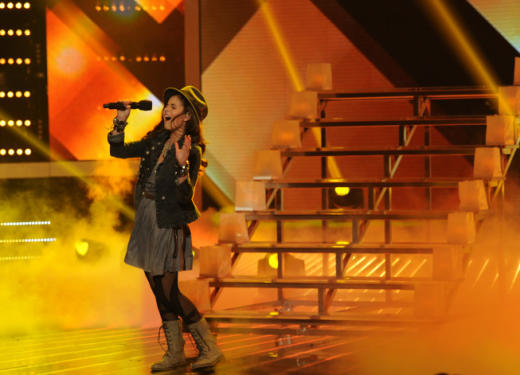 Diamond White, "I Wanna Dance With Somebody" - Whitney Houston once again. The girl's got guts. She's also got a different version of this classic, starting it slowly and very effectively. But the confetti then pours down and the back-up dancers kick in as the tempo speeds up... and it's like White gets lost in the production.
Vino Alan, "You've Lost That Loving Feeling" - Hey, at least it wasn't another patronizing song about America. But it was rather drab, as Demi and Simon both note, with the latter providing the most stinging take: "That was not a $5 million performance." In related news, the sky is blue.
Paige Thomas, "Never Gonna Give You Up" - We're being Rick Rolled, as Paige insists on dancing, much to Demi's chagrin. And much to ours. Ouch! She's spinning a lot and trying to shake and not exactly singing as she does any of it. L.A. Reid says it was her "best performance." Safe to say I disagree.
Fifth Harmony, "What Doesn't Kill You" - We learn that Ally's grandfather died, which casts an undeniable pall over the performance. It's not bad on its own merit, though, especially the actual singing. I could have done without the images in the background, but the group hug sold me.
Carly Rose Sonenclar, "Rolling in the Deep" - There are a couple subtle changes to this Adele classic, and an annoying wind machine, but the bottom line is clear: this gal can whale! Very impressive. Simon refers to her as an "alien," I think as a compliment."
Tate Stevens, "Somebody Like You" - Country fans will be happy with this rendition, which included some fun guitar playing. Britney goes as far as to predict a Country Music Award for Stevens one day. That may be putting the cart before the cowboy hat.
CeCe Frey, "Lady Marmalade" - This is simply atrocious, almost like Frey is daring America to send her home. She's just screaming and doing a terrible Xtina karaoke impression. Simon correctly (PLEASE say it's correct, viewers) tells CeCe to "pack a suitcase."
Emblem3, "I'm a Believer" - Not much energy, but props for going with The Monkees. This has to be tongue-and-cheek, right? I dig the goofiness, but can't take them seriously as contestants.
YOUR turn, TV Fanatics: Which was your favorite performance?
Matt Richenthal is the Editor in Chief of TV Fanatic. Follow him on Twitter and on Google+.