Gossip Girl Questions Answered: Stephanie Savage Weighs In on Finale
Steve Marsi at .
Monday night's Gossip Girl series finale was one for the ages.
With cameos galore, two weddings, a five-year flash forward and the mother of all twists, the Stephanie Savage-penned "New York, I Love You XOXO" sent the show out in style after six seasons.
Check out our Gossip Girl finale review, along with our video tribute to some of the best scenes. Then read excerpts from her interview with TV Line, in which she discusses the episode, below: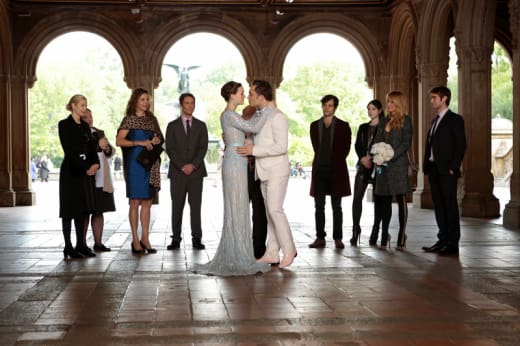 On deciding when Dan was Gossip Girl: "I don't think we ever had another choice in our mind. It was always just a question of were we going to reveal it or not to reveal it."
"It was unclear if knowing Gossip Girl's identity was something fans would want. Maybe it was more fun for everyone to not know ... to speculate and come up with your own ideas."
On the plot holes that revelation might expose: "We didn't want to lean in too heavily to that ... It was nothing that we wanted to be part of Penn Badgely's performance as Dan."
"We didn't want the viewers actively thinking about it. We held the reins loosely and didn't want to draw attention to the fact that one of our main characters might actually be Gossip Girl."
On Kristen Bell and Rachel Bilson: "Once we felt certain that we could do Rachel and Kristen together, it seemed like you wanted to build more for them than just having them look at their phones."
"Josh Schwartz and I came up with the idea… Having Kristen on the show was very, very special. To be able to have her onscreen was great. And to have Rachel with her was icing on the cake."
On Nate ending up single: "Well, he's single for now. The Nate story we wanted to tell was that Dan allowed him to break the Gossip Girl story, which helped jump start The Spectator."
"He didn't have any crazy partners or distracting girlfriends. He's very successful. We're seeing him come into his own as a young man and a real player in the New York scene."
On Rufly not ending up together: "Obviously, Rufus and Lily together complicates the Serena and Dan dynamic. But more importantly, we felt that Rufus and Lily gave it a real college try."
On why Chair became parents: "It seemed like the ultimate coming together of their union and their future. And wanting to see that Chuck and Blair could both be good parents."
On Henry's name: "That was what Chuck renamed himself when he was shot."
On whether Chair was always endgame: "I don't know about always, but certainly by the end of last season when we were writing our Season 5 finale. We had a sense of the endgame."
On whether Dair was ever an option: "Um… nope! [Laughs]"
What did you think of the finale? Vote in our surveys below!
General impression of the Season 6 and series-ender?
Happy with the couples' endgame?
Dan as Gossip Girl: Satisfying?
Steve Marsi is the Managing Editor of TV Fanatic. Follow him on Google+ or email him here.