Grimm is on an especially long hiatus, not returning with new episodes until March 8.
So what better time to stop and take stock of what we've witnessed so far on Season 2? Following in the tradition of our Once Upon a Time report card and Vampire Diaries report card, read on for one fan's evaluation of the Friday night drama...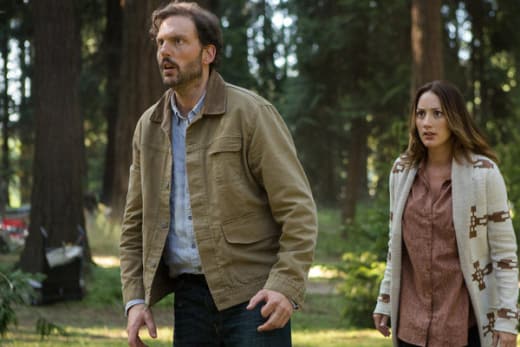 Best Character: I gave this honor to Monroe on last year's Grimm report card, and while he's still quite awesome, let's hand it to Nick for 2012. This character has really come into his own as a Grimm; he's built a team of allies from the ground up; and he's resetting the rules of what it means to be a Grimm. And he's doing all of it while his personal life is crumbling down around him.
Worst Character: Juliette, again. While she is a much stronger character compared to last season, her story arc here is much of the same: slow and dull. Her perpetual state of forgotten memories of Nick and her feelings for Renard are so stagnant that they end up being boring rather than intriguing.
Best Episode: This is a twofer, as "Bad Teeth" and "Season of the Hexenbiest" are the strongest cases of Grimm's quality writing. The former answered many of the questions we've had regarding Nick's heritage, his ability, the royals,and what's at stake. The latter brought Adalind back to Portland as a fun, but ruthless adversary while setting Nick and Renard into each other's crosshairs.
Worst Episode: While Grimm would seem like a natural fit for a Halloween outing, "La Llorona" just didn't fit very well with the themes of the series.
Biggest Head Scratcher: The need to drag out Juliette's condition with almost no developments for nearly 12 episodes.
Hopes for 2013: Mama Burkhardt is still out there in Portland somewhere, and it's my hope she'll be back before the season is out. I hope to see a resolution with Juliette sooner rather than later. Finally, I want Rosalee back and Monroe out in the field (to the extent he can be) with Nick.
Overall Grade: A-
Your turn, TV Fanatics: Grade Grimm Season 2...