It's Always Sunny in Philadelphia Review: Science Is A Liar Sometimes

Neal Lynch at .
On this episode of It's Always Sunny in Philadelphia Season 8, "Reynolds vs. Reynolds: The Cereal Defense," a car accident causes The Gang to hold a mock trial that devolves into a debate about evolution.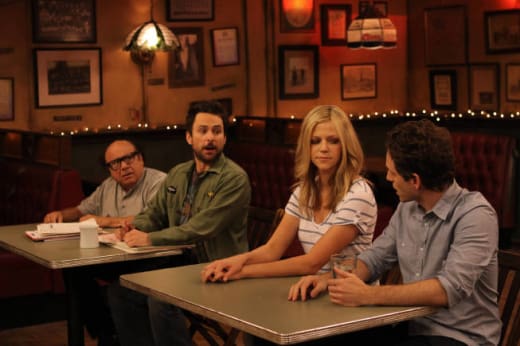 I'll be honest: without knowing that this was this season finale, I thought this was the best episode of the past three years. Most finales up the ante and try to go over the top in their execution, but here The Gang gets back to basics; no recurring secondary characters, no guest stars, just The Gang at its finest: flip-flopping, back-stabbing, suspecting, accusing, tearing each other down and pumping each other up.
From the get-go, you could sense we were in store for a ridiculous chain of events - Charlie giving Frank driving directions... on tape. Frank barely able to see over the wheel much less through his coke bottle lenses. Dennis listening to a public radio program about composting while eating a bowl of cereal. 
While Dennis and Charlie gave exceptional performances during the mock trial, Mac really stole the show. The trial meter (only took three hours to make), the evolution meter (only took three hours to make), and the "Science Is a Liar... Sometimes" board belong right up there with 'The D.E.N.N.I.S. System' presentation. Mix in the exoneration of being donkey-brained certificate and I'd be shocked if the "Always Sunny Home Mock Trial" Kit isn't for sale in the FX merch store for last-minute Christmas gifting. 
Really, though, it's the little things that made this episode an instant classic. How about the dude drinking at the bar in the background the majority of the half hour? Dee's motives flying under the radar. Dennis' disdain for Mac claiming to be the tastemaker of the group. All classic. But I think it was the Law & Order-esque sound effects and black title cards interspersed throughout the proceedings that sealed the deal for me. 
Now that I know it was the finale, I don't know that they could've ended the season any better. The only minor note I have is that there wasn't really a setup for next year. Or, at least, so I thought. We've seen each character pushed to the brink of insanity - some more than others - and I feel like Dee has finally reached her wit's end.
Will Season 9 be the Season of Sour Dee? What amazes me most is that's just one of many storylines The Gang can roll out, which is unbelievably impressive after eight years.