On Thursday night two more acts left The X Factor stage, leaving just four to battle it out in next week's Semifinals. Who moved on? And who is heading home?
After a lot of recapping of what happened Wednesday night, and a performance from last season's winner Melanie Amaro, it was time to say goodbye to one contestant...
The act that got the boot right away was...CeCe Frey!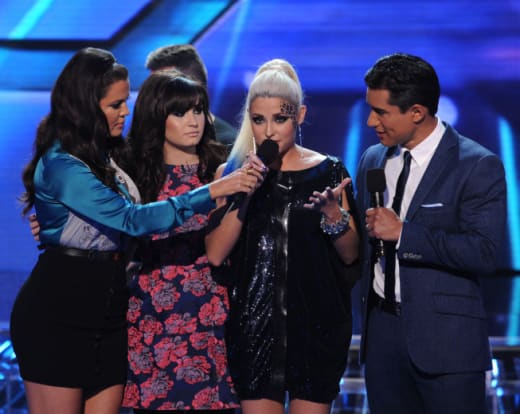 It was then time to see who made it through to the Semifinals. Who is in?
Emblem3!
Carly Rose Sonenclar!
Tate Stevens!
That meant that Diamond White and Fifth Harmony had go to the Sing Off to see who would make it through.
They literally talked to Diamond White and Fifth Harmony, asking basically the same exact questions, right before a commercial break AND then right after the break. They're ridiculous.
Fifth Harmony: This would have been my favorite performance by them this entire season if they had given a majority of the vocals to "Middle" instead of "Shorts." The cutesy voice on Shorts doesn't pack the punch that Middle's does.
Diamond White: Right off the bat, I'm more impressed by Diamond's ability to sing with emotion.  And while she hit that big note near the beginning, a lot of it felt really pitchy, so I wasn't sold on it either.  I am pretty sure, however, that "Middle" would have knocked that song out of the park.  I'm just saying.
Let's go to the judges' votes...
Simon - Sends home Diamond White
Britney - Sends home Fifth Harmony
L.A. - Sends home Diamond White
Demi - Sends home Diamond White
That means that Diamond White is gone, and Fifth Harmony moves on.  Diamond had one of the classiest and sharpest exits I've ever seen on this show, so I hope she goes on to do good things.
Finally, the ranking of the Top 4 were revealed...
4. Fifth Harmony
3. Emblem3
2. Carly Rose Sonenclar
1. Tate Stevens
There you have it America. What did you think of tonight's The X Factor Results? Did the correct two contestants go home?
Dan Forcella is a TV Fanatic Staff Writer. Follow him on Twitter.