Well, I did not expect that.
I thought that Walden's lies were going to catch up to him on "Give Santa a Tail-Hole," but perhaps they will soon, as his double life is most certainly going to take a major toll on him, most likely destroying the relationship he has with Kate.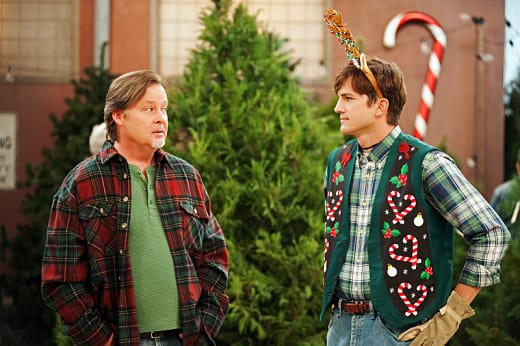 But I have to give the billionaire props, he's sticking to his guns and living up to the fibs: he now has a job selling Christmas trees and he now shops at the 99 Cent store. There's simply no way this ends well.
That aside, this holiday episode was not up to par with the recent Two and a Half Men episodes; it fell flat in numerous places. There was little fresh overall, as Alan has been returned back to his status as comedic fodder along with Berta and Jake.
The writers seem to focus on just one storyline, placing all other characters on hold until a certain arc runs its course, which isn't necessarily a bad thing - but when you give some characters much do, and others far less, it comes across as a bit cumbersome.
All it took was a couple scenes for me to stop caring about the sale of Walden's company. It came across as forced, although I do admit, he is a master negotiator, which means he's now richer than before.
I just want to see more out of the supporting characters. Remember Judith, Evelyn, even Bridget? As head into the annual hiatus, let's hope those individuals are awoken from their winter slumber.