With 2012 coming to a close, the TV Fanatic staff will be gathering around our virtual Round Table on a nearly daily basis.
Yesterday, we debated the year's Best Feud. Now, we sit back and answer: Who was the Best Villain on television in 2012?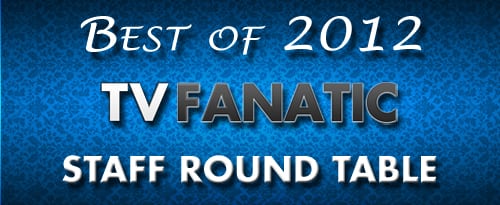 Christine Orlando: I've got to go with the first villain I ever truly loved to hate. The iconic J.R. Ewing from Dallas. I'll never forget Larry Hagman's portrayal of the snarky, vengeful, funny, dastardly oil man who would cut his enemies off at the knees and manipulate his family to his advantage... yet never stopped trying to make his Daddy proud. I'm ever so grateful he got to wreck havoc on Dallas one more time in 2012.
Steve Marsi: How do you follow up Larry Hagman without sounding trite? We should rename this the J.R. Ewing Memorial Award. For which I nominate Joseph Morgan's Klaus for his continued, murderous contributions to The Vampire Diaries.
Mary Powers: "Root" from Person of Interest.
Miranda Wicker: I'm going with Hollis Doyle from Scandal. He's one scary oil tycoon who'll stop at nothing to cover his own assets.
Dan Forcella: Neal McDonough's Robert Quarles on Justified Season 3. The dude was the perfect combination of scary, creepy and charming.
Matt Richenthal: Hello? Abu Nazir on Homeland?!? The guy is basically Osama bin Laden. Pretty sure you can't top that.
Carissa Pavlica: The Bolt Gun Killer on Haven. Not only do we have absolutely no idea who he (or she) is, but he/she is wreaking total havoc on the town. Also, as a skin walker, they've recently revealed one the best characters is dead and he's walking in her skin. Double whammy.
Carla Day: King Joffrey. His treatment of Sansa, the prostitutes and others in Game of Thrones Season 2 were beyond vicious. He is a sadistic monster, but that makes him a wonderful villain to watch.
Chandel Charles: Regina from Once Upon a Time. The woman just wouldn't quit, and Lana Parilla plays the part excellently. My hope for her in 2013 is that she switches over from the dark side!
Kate Brooks: The Graysons on Revenge. Ruthless and are willing to sacrifice anything to stay on top, they are some bad asses, that's for sure.
Nick McHatton: Emily Thorne might be the best villain ever. The way she wreaks havoc on the Graysons is equal parts marvelous, vindictive and awesome. She's a villain you can root for.
Sean McKenna: Walter White. That guy has been on the dark path of no return for a long time and his hands are plenty dirty with the choices he's made. I mean, the show is called Breaking Bad after all.
Jim Garner: I'm with Carla, Joffrey is such a bastard, I wish someone would just strangle his butt during most episodes.
Leigh Raines: Okay, I'll represent the teen vote since I'm 27 and all and my TV preferences are totally normal… A from Pretty Little Liars. You don't know who it is because there's a whole team of them. You never know when A will strike and the unknowing stalker thing scares the crap out of me, ABC Family or not.
Gabrielle Moss: I'm gonna have to second Sean on Walter White. He is a bad, bad man who just keeps getting worse.
Matt Richenthal is the Editor in Chief of TV Fanatic. Follow him on Twitter and on Google+.