There are only a couple hours left in the history of 30 Rock. By the end of "Florida," we learned that there is just one episode left in the history of TGS with Tracy Jordan.
Yup, thanks to Hazel's lawsuit, and the host of other issues those crazy people have brought upon themselves recently, Hank Hooper said that it's finished. Did we expect anything different for the end of 30 Rock?
I didn't. It will be interesting to see what TGS does for its final hurrah, and then even more intriguing to to see where our favorite characters end up before the final scene fades to black.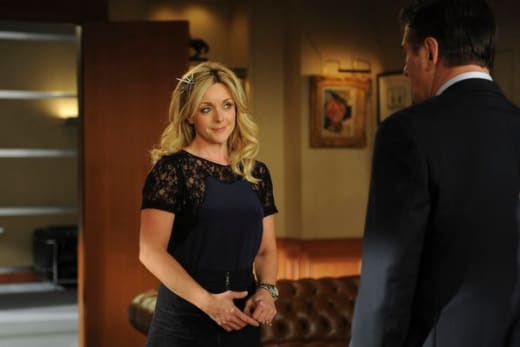 Thanks to a trip to his mother's place in Florida, where he met what turned out to be Colleen's late-in-life lesbian partner, Jack realized that not everyone has to be what they seem like. Could he ever have imagined a world where his cold, sarcastic mother was actually a joyous, fun-loving lady? No, but apparently that was the case when she was with Martha in the Sunshine State.
Does that mean Jack might not take the CEO job? Will he look for another path? Maybe something that doesn't fit with the stoic appearance he has put before everyone for all these years? We shall see.
As Jack and Liz were rolling into each other on a really old mattress, pondering why they never hooked up over all these years, Hazel's suit had the rest of the TGS guys all worked up back at 30 Rock.
There were a few good Tracy bits along the way - asking Tim Meadows what kind of dinosaur is grandfather was, and saying that because he was a lawyer in a movie he knows all about winning your son's love back thanks to a magic camera come to mind - but it wasn't a laugh-heavy episode overall.
That doesn't mean that it wasn't a good installment. They didn't try very hard for guffaws, which is surprising for 30 Rock, but is also better than attempting and failing all half hour long.
Check out some more of our favorite moments from "Florida" in the 30 Rock quotes section and then let us know what you liked about the episode in the comments.
Dan Forcella is a TV Fanatic Staff Writer. Follow him on Twitter.