I'm sorry to report that your regular intrepid Archer reviewer was unable to make it to the post tonight, and left the Archer Season 4 premiere, "Fugue and Riffs," in the capable (burn!) hands of... ME!
Archer with amnesia had me laughing out loud more than once, and the little spin on the episode was a bit of genius.
Seriously, there is some sort of strange Kismet at work when the first time I've ever covered the episode an amnesiac Archer thinks ISIS is referring to the Shazam!/Isia Power Hour, one of my all time favorite hours of television. Yes, I am that big of a dork that I DO remember that show, Archer baby!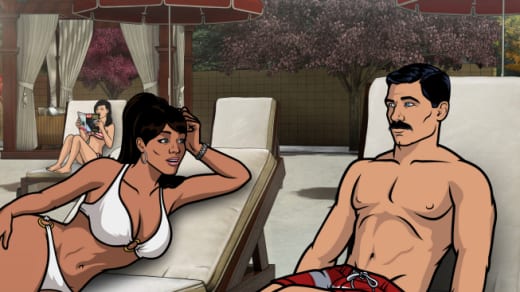 If you've always wanted to know what Archer would be like as a normal dude with a family, you got your wish. H. Jon Benjamin morphed into his alter ego, Bob, of Bob's Burgers. I never even think of Archer in the same context as Bob, and it took me a few to realize what was happening. It's amazing what a difference in animation technique and a makeover can do. It was a really cool premise and a nice chance for Benjamin to be showcase his two very different characters within one show.
He was Archer alright, but as Bob instead. Not much was different at all except his name, profession and inclination to marry someone the minute they met. Even Archer as Bob took on the voice H. Jon Benjamin does for Bob on Bob's Burgers. That's the only way Lana knew it was Archer again, after she banged him over the head, he ripped off her bikini and slapped on some coaster pasties to jiggle his memory. The tone of his voice game him away. Strong and whiny at the same time, just like we like him.
You've not been following along if you don't know why that groovy maneuver was what Archer needed to zap his brain because even Eric was a little embarrassed and prude in his review of the Archer Season 3 finale "Space Race" when Lana was stripped to her space pasties. Lana has a great rack. Never shall a moment pass when Archer doesn't get her down to her pasties!
Just before Archer got his memory back, and was slinging the fire bombs across the pool the KGB screamed to him, she calling him Sterling Archer. I'll never forget his reply:
Archer: Jesus, Mary and Joseph Stalin! For the last time assholes, my name is....Shazam! How do you not remember that show? | permalink
While Archer struggled with his amnesia, the whole gang was along for the ride and cracking on as usual. Pam and Cheryl were there just to spend money and use the spa. What the hell was with Cheryl's obsession with ostriches? Whatever it was, it lead to one of the best screams I've heard in ages, so I'll take it. Krieger and Cyril were on fire (pre Molotov cocktail) bashing Ray in his chair. Here's one of my favorite Archer quotes of the night: 
Ray: Ooh! Here's an idea. Why don't you just saw your God damned head off?
Cyril: Geez. What's up your butt?
Ray: Nothing is up my butt, Cyril. Oh, or maybe there is. I wouldn't know because I'm paralyzed from the waist down and it's Archer's fault!
Krieger: Uh, gettin' some mileage out of that, huh? | permalink
It all came down to why Archer disappeared. He thought he didn't run away from home, but if Malory's marriage to Ron Cadillac, the biggest Cadillac dealer in the tri-state area, was stressful enough to cause psychogenic retrograde amnesia, I'm going to have to call his bluff and say running away from mommy was exactly what he did.
Did you wonder what happened to Barry? Nobody else did, but Lana's questioning how in the hell the KGB could track Archer to a burger shack and not to the spa lead to lovely little scene with Barry, kind of gone "Moon," minus the actual clone, while trapped in space. Murdering the technicians sent to help him get home his sole goal? To kill Archer. Poor dude couldn't even accomplish it from with an eye in the sky.
An awesome start to the season. All I can say is: more, more, more! 
Carissa Pavlica is the managing editor and a staff writer and critic for TV Fanatic. She's a member of the Critic's Choice Association, enjoys mentoring writers, conversing with cats, and passionately discussing the nuances of television and film with anyone who will listen. Follow her on Twitter and email her here at TV Fanatic.