Television critics in attendance at the 2013 winter press tour practically blue themselves this afternoon, as the cast of Arrested Development reunited on stage and previewed Season 4 of this iconic comedy.
All 14 episodes that comprise it will hit Netflix simultaneously in May.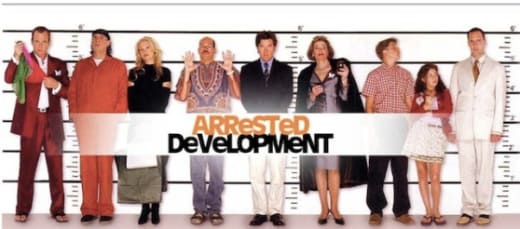 Creator Mitch Hurwitz said today that each episode will be told from one character's perspective, and that you'll actually see the same scenes from multiple perspectives across various episodes.
"We wanted to find a way to jump from one story to another, almost a Choose Your Own Adventure," Hurwitz, adding the technology didn't exist for such an endeavor.
But this Netflix experiment, referred to as "special" by multiple cast members, was as close as the show could get to such an idea. Hurwitz referred to the entire season one "giant 700-minute Arrested Development episode."
Among other highlights from the panel:
Jason Bateman confirmed the episodes "set up" a film, but: "It is certainly a satisfying conclusion to these episodes if for some reason a movie doesn't happen, but they are all meant to work within one another as a hybrid package of Arrested Development stuff."
Hurwitz acknowledged the propensity of Netflix customers to "binge view" and said this format will fit in perfectly: "You gotta stay with the audience."
Michael Cera is actually on the writing staff for Season 4. "I really just stuck around," he said, explaining that he was in the room when they were penning the George Michael episode.
Jessica Walter, meanwhile, gushed over how she loves everyone in that writing room, to which Will Arnett joked: "Name ONE writer!"
The episodes vary in length, but Hurwitz says most will be under an hour.
It took awhile for the full cast to film one scene together, but when they came together for a living room scene after two weeks, Jeffrey Tambor said: "This isn't, I would say, a sentimental group. But that was a pretty interesting room."
Bateman then thanked critics and fans for all their support, while Hurwitz was asked if he feared these new episodes would tarnish the show's legacy. "I could vomit right now," he replied. "On cue."
While we celebrate the impending return of this sitcom, we leave you with a link to our Arrested Development quotes section.
Matt Richenthal is the Editor in Chief of TV Fanatic. Follow him on Twitter and on Google+.