There was only one teen in this week's episode, so "The Teens They Are a Changin" only worked as a title  for one character.
On the other hand, I think my own headline above is pretty apt. Allow me to pat myself on the back. It's even a song title. Woo! Go me! Outside that exciting moment, Sally found some peace this week, but it was ultimately veiled. It was an overall depressing hour of my favorite Syfy show.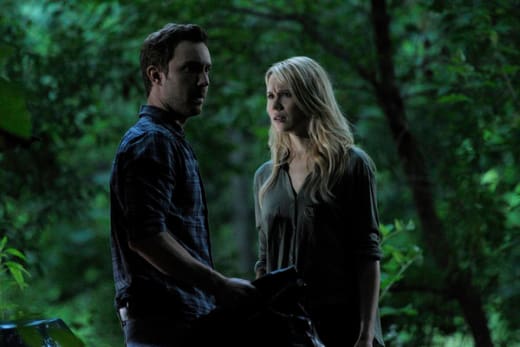 Sally: Sally was enjoying the stress of having killed Trent. Yeah, I say she was enjoying it because after years of ghosting (as she called it), she was able eat. Two chickens and a gallon of ice cream and she wouldn't gain an ounce. That is enjoyable no matter your mood. And her mood was dour. She was worrying about killing more people, and yet still oddly compelled to be at Trent's memorial service to help him in his ghostly endeavor.
Could it be that Sally just misses the drama of being a ghost? Being as close to human as you could get after being dead and without a body might be a letdown in terms of excitement, especially when you're used to vampires, werewolves and witches. At least she could still see all the supernatural creatures, ghosts included. As a bonus she can change her clothes and eat food. She really needs to grab the bull by the horns and enjoy things. Someone in that damn house needs to enjoy their human experience.
She helped Trent find his door, and got a little something extra with the funeral director in the process. The snafu? Trent's door lead directly to the soup kitchen where the witch "killed" him again and she ate his remains. Holy schneikes. I did not see that coming! The threat the witch made was almost a temptation; one of those "I dare you not to do it" moments. Merely by mentioning not to go near people she used to know she put the idea to do it into Sally's head. Who knows how many old friends will make their way to the kitchen and into the witch's belly before Sally finds out?
Josh and Nora: Thankfully, Nora made it out of the McLean machine without giving up her secret about Aidan killing Connor. Liam was describing Nora as kin, but there will still come a time when he finds out about Aidan. Erin, the girl who ended up in the hospital with the werewolf scratch, seemed like she might be someone Nora could lend to him as a surrogate daughter while he looks for Brynn. He seems really into the idea of werewolves as family, and a lonely teen werewolf would be right up his alley.
However, when Josh and Nora took her to the forest and Erin started to turn, something else came to mind. As she headed toward Josh, I wondered for a minute if she might be a plant by Liam meant to turn Josh again. I don't even know if Liam knows about Josh, but I had that crazy idea. Then Nora-wolf and Erin-wolf were together, nuzzling, and I felt myself get misty eyed. Maybe Erin will act as the child Nora lost when she first turned. Erin seemed cool, and the wolf dynamic was entirely new, so I'd be willing to see it play out.
Aidan and Henry: The search for blood continued and it wasn't getting any easier. Aidan asked Josh to comb the hospital files for clean people for Aidan and Henry to feed on, but Josh was hesitant. He did an initial search, but didn't follow through. When Henry thought Josh was dodging Aidan and went to hospital himself, he really pulled out the dark side and slammed it at Josh, accusing Josh of not caring for Aidan, reminding him he would die and Aidan wouldn't remember his name in 100 years. Ouch.
What hurt was how much faith Aidan had in Henry. He was pushing him to be strong, reminding him that they could get through anything together. Instead, when Aidan wasn't looking, Henry binged at the hospital and, sure enough, drank tainted blood. Blaming his weakness on Aidan, he named everyone who ever loved Aidan as dead. Henry flung one insult after another at Aidan and fled to the streets.
Aidan found him and they had a farewell scene before Henry left one more time. Will he survive? How many lives will Henry have? So far, he has managed to weather even the most perfect of storms. Did every vampire who got the virus die or was there a tiny percentage who prevailed? By giving Henry the opportunity to walk away, they've left a door open for his return.
Being Human Season 3 is rock solid with perfect pacing and engaging twists. They've remained true to character development while reinventing the characters themselves and that's quite a feat. What did you think about this week's installment and what could possibly be next in their quest for normalcy?
Carissa Pavlica is the managing editor and a staff writer and critic for TV Fanatic. She's a member of the Critic's Choice Association, enjoys mentoring writers, conversing with cats, and passionately discussing the nuances of television and film with anyone who will listen. Follow her on Twitter and email her here at TV Fanatic.