Bones Exclusive: The Return of Pelant, Meeting Mrs. Brennan and More!
Jim Halterman at .
The news came down earlier this week: Bones Season 9 is a go!
And with fans excited about the long-term future of this fun Fox hit, TV Fanatic chatted at the Television Critics Association winter press tour with creator Hart Hanson and star Emily Deschanel about what's on tap in the short-term. 
How will time travel come into play? Will there be wedding bells for Booth and Brennan? When might viewers once again see Christopher Pelant?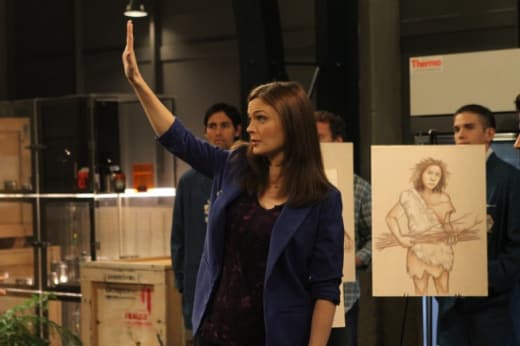 "We weren't supposed to make it to our first Christmas," Hanson said about the show's renewal. "To see sometimes written 'Fox's Flagship series Bones' is hilarious to us because apparently it's true if you just outlive everybody you get to be the flagship."
Hanson added that his team needed to know whether it was writing towards a season or series finale, largely so it could determine the best way to handle Andrew Leeds' Pelant, who will be very present throughout the rest of Bones Season 8.
"Pelant is a deadly fellow," Hanson teased, confirming he will play a key role in the finale and that he'll appear again soon when "you get a sense of what his targets and desires are for our group. He does not like our gang. He does not like them because when they're all together they're smarter than he is and he doesn't like that."
And what about Booth and Brennan finally tying the knot?
Deschanel wouldn't spill too much on the couple, simply offering: "I think there's probably a time for Brennan to get married, but I don't know when that time is exactly. I think she's somebody who's changed so much over time and she's a feminist and doesn't see a reason to get married."
The star also never thought Brennan would be a parent, but little Christine has been good for her.
"I think that it's wonderful to see her character change and soften. I'm a feminist and I do believe that you don't need to get married and you don't need to get married to have a child. At the same time, there are laws that may actually make it preferable to be married when you have a child because you can't even visit someone in the hospital. I actually looked into this personally."
Deschanel added that big change could come from Brennan after she flat lines and has an out-of-body experience: "You start to understand why she is so hyper-rational and behaves the way she does. She's given reason to change that in this episode."
Look for an appearance by Brennan's mother,  played by Brooke Langton, to take place during this unusual installment.
Finally, in anticipation of tonight's TWO-HOUR return, Hanson offered up one more storyline tease: a time travel episode!
"We delve into a case that, despite the fact that time travel is scientifically impossible, it might have occurred. So it shakes everybody up and, who knows, maybe it did."
Visit TV Fanatic the moment tonight's return episode ends for a detailed recap and review!
Jim Halterman is the West Coast Editor of TV Fanatic and the owner of JimHalterman.com. Follow him on Twitter.