Castle entertained again this week with "Death Gone Crazy," a fun and lighthearted episode with lots of girls and some even better Castle quotes. Let's discuss...
College Girls & Murder. The weekly case dealt with the death of Beau Randolph, the guy behind "College Girls Gone Crazy." Beau was found dead in a club bathroom strangled by a bra. Only Castle could pull off something like this.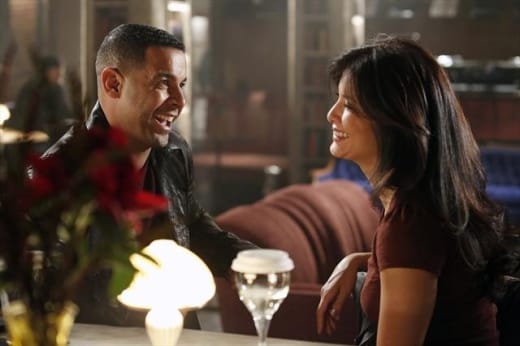 The usual twists and turns took place from a hot - and I mean hot - bodyguard to a kindergarden teacher and a children's programmer. 
The latest installment was typical Castle fun and should not be missed. Especially since....
Espo's Got A Date! After the hot bodyguard was cleared, Handsome Javi asked her out on a date. The role was played by actress Kelly Hu, who's been popping up on some great shows lately (i.e. Arrow & The Vampire Diaries). It's about time he moved on from Lanie. Although, they did exchange some longing glances in the beginning of the hour. 
As much fun as the Javi/Lanie relationship was, we never got to see it develop. We're not going to see one between him and Scarlet the bodyguard either. Over the past several episodes, this character has really found its footing and has taken on a leading type role. Give the man a love interest! Even if it's just for a few episodes; us ladies want to see him with his shirt off again!
"It's a vlog!" Castle and Alexis had their father/daughter time over an incredible looking sundae while discussing Alexis' video blog. Although sometimes Rick can be a wacky dad, he was right about one thing tonight. The Internet can be a scary place and things never really go away. He was worried about his daughter being out there on the Web with personal information.
He understands how easy it is for predators to get to young girls and he worries for her. And rightfully so! We see too much of this type of stuff gone bad. It's always good to see Castle being an awesome dad.
Side Notes
Nothing special between Castle and Beckett tonight. Doesn't matter, though. They are solid and Kate continues to get hotter each episode, right?
No Gates again! Anyone notice?
Gotta love the few bromance moments... even if they were blink and you miss it.
Overall, another fun episode of Castle. Up to par with the show's expectations and just as enjoyable as you expect. What did you think of "Death Gone Crazy?" Did you enjoy this week's murder or did it fall a little short?
Sound off below and let us know your thoughts an don't forget to check back for the Castle Round Table later this week.