Cougar Town Review: Balcony Can and Gold Diggery
Nick McHatton at .
"I Should Have Known It" felt a little off compared to prior episodes of Cougar Town Season 4, as we saw Tom in a (somewhat) different manner.
Tom isn't the most compelling character in the ensemble, and while he's excellent for a creepy joke here and there, the qualities he brings to the table aren't necessarily easy to extend out for an episode-long story.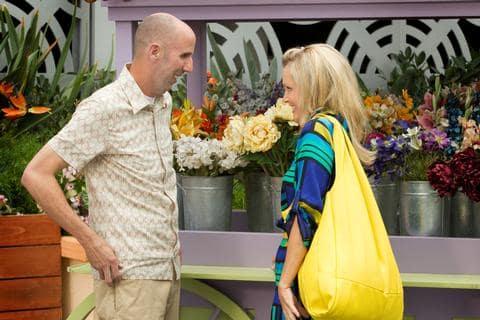 Tom dating a gold-digger at first within the context he's been characterized as, and it's hard to fault Cougar Town for wanting to do a little more for Tom - but Jules and Laurie trying to get to the bottom of the will-she-or-won't-she gold dig felt a bit forced.
Part of the reason things felt forced is due to Jules and Laurie being cut off from the rest of the cul-de-sac for most of the episode. The bits between Jules and Laurie were still enjoyable as they rooted for Bobby and Ellie and played some balcony penny can.
Still, there can't be too much love lost over the episode as Laurie's breaking and entering into Tom's house using his roof, with heels on, was easily one of the best gags Laurie has ever done. And I completely lost it when she came stumbling inside with her savior the satellite dish.
Ellie's attempt to teach Bobby manners combines two of my favorite things: Ellie and ridicule. And Bobby seems to be the only one who can go toe to toe, albeit sometimes unknowingly, with Ellie.
I found myself rooting for Bobby and Ellie as their lessons became a little more romantic, and, of course, it makes total sense that Andy has dreams about Bobby and Ellie running off together.
I wonder if Tom's fan fiction had stories about that.
A Few More Thoughts
Of course Travis can be bought with Hulk hands, but at least Jules can still easily guilt trip him back to her side.
I hear hug pacts are binding in court.
Washing your pinky is sound advice. We're not animals after all.
That's all for Cougar Town this week TV Fanatics! The next episode won't air for three weeks. In the meantime, let us know what you thought in the comments!