Elementary took center stage yesterday at the Television Critics Association press tour, with executive producer Rob Doherty and stars Jonny Lee Miller and Lucy Liu answering a number of questions about upcoming guest stars and storlines.
So let's get to the scoop, shall we?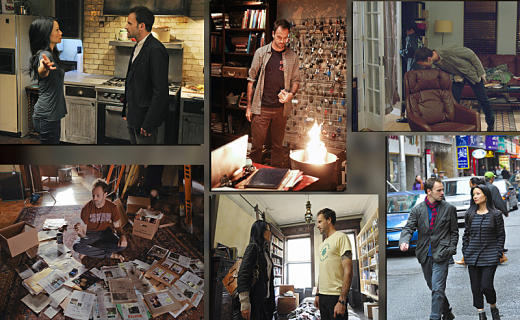 JOHN HANNAH has been cast as Rhys, a British drug dealer from Sherlock's who arrives in New York needing his old client's help.
Yes, MORIARTY, is coming, Doherty said: "We have that to look forward to as we move into the back end of the season," adding that Elementary Season 1 will become more "serialized" over the winter/spring.
WHO MIGHT PLAY MORIARTY? TBA. "We want a tremendous actor," Doherty said. "It's probably in the immediate future, but we have a few more weeks before we have to sweat that."
WE WILL MEET IRENE ADLER. Explained Doherty: "She's an important element of Sherlock's backstory. I'd love to have a face to that name. We've talked about doing a flashback show [to] see why Sherlock would be drawn to this particular women...  so we definitely want to meet her. In that sense, you will see a living, breathing actress reading lines as Irene."
NO ROMANCE HERE. Simply put, "as long as I'm part of this show it's not something I will want to see," Doherty said in response to the idea of Sherlock every hooking up with Watson. " When you look at the relationship in the original Conan Doyle canon they didn't need to get together. They did quite nicely."
Doherty could "not be more excited" about the show's POST-SUPER BOWL slot, saying of appealing to new and old viewers, the episode will center on "a story that we felt not only was a good example of what the show could be, but also something that our viewers would have fun with."
Matt Richenthal is the Editor in Chief of TV Fanatic. Follow him on Twitter and on Google+.