The Television Critics Association Winter Press Tour wrapped this week after two long but very productive weeks.
So, as you can guess, my Notebook is busting at the seams for fans of Elementary, Glee, Cult and The New Normal. Read on to gather up the latest scoop...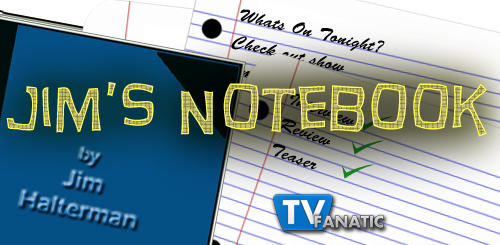 ELEMENTARY The Jonny Lee Miller/Lucy Liu drama is going to get even more exposure soon its post-Super Bowl slot and creator Rob Doherty admitted that filming this particular episode has "been a bear, but in a lovely way. It was an episode that we had to do in two parts, in that we were shut down for a couple of weeks for a holiday hiatus. So some of the work was done prior to the break. A lot of work has been done this week to wrap up the episode."
Being the most-watched new show was a pleasant surprise for Miller, too, but did he have a hunch the series would grab viewers' attention?
"No, that's not the kind of hunch that you get. You don't get hunches, you kind of hope for the best, but you try and do the best that you can. You never in your wildest dreams imagine that."
CULT Where did the idea come for the upcoming CW show about... well, the strong fandom of television that turns dark and violent? Science fiction. Where else?
Creator Rockne S. O'Bannon explained during the Cult TCA panel: "The origin of the show actually did come out of my Farscape experience where I witnessed the kind of incredible fan passion for a show and the ability of fans to kind of find each other through social media and connect up."
Of the cult-favorite series that ran from 1999-2003, O'Bannon said "it started me thinking what if the show were something with a little bit darker edge and what kind of fans would that then draw?  And so Farscape obviously was the kind of catalyst for the idea." 
Cult, starring Vampire Diaries alum Matt Davis and Prison Break's Robert Knepper, premieres February 19 on the CW.
GLEE How are producers Ryan Murphy, Brad Falchuk and Dante Di Loreto juggling not one, not two but THREE successful programs in Glee, The New Normal and American Horror Story?
On the Glee set earlier this week, Di Loreto explained when Glee started they "were writing every single episode, and that was a herculean feat. And since that time, we have grown what I think is one the most talented writers' room with a great seniority and great young people, and I think it brings wonderful freshness to the storytelling and, I think, makes it possible for Ryan and Brad to do multiple projects."
He added of Murphy: "Ryan's mind is very facile. I think he rises to the challenge that's in front of him. And I think that being able to go through three very distinctly different shows is what makes it possible."

Watch for a wedding to take place on the upcoming Valentine's Day episode. While my money is on Will and Emma, it is a Sweeps installment - so a big shocker could be in store, too.
THE NEW NORMAL Who better than do an episode on gaydar than…Uncle Jessie? Yep, John Stamos is appearing in a few episodes of the sitcom and the story centers around whether or not his character may be gay or straight.
"Gaydar doesn't work anymore," said Executive Producer Ali Adler from the show's set. "However, we set it to in the '90s and the '80s and whatever, it's just not working anymore in this millennium. And we can go, 'He's a florist; he's gay.' Well, those notions are going to hang us ultimately, and I think that's what we explore with John and [guest star] Mark Consuelos, as well."

Justin Bartha, who plays half of the gay couple on the series, added, tongue in cheek: "Well, if he's a florist, he's probably gay."
Other future storylines include breast feeding and (gasp) a new haircut for Ellen Barkin's bigoted character. As for the big question about whether we'll see pregnant Goldie give birth this season? That remains to be seen, as Andrew Rannells could only say: "There will be a baby at some point."
OUR AMERICA WITH LISA LING If I had wanted to know more about the world of BDSM (bondage, discipline, sadism, masochism) I don't know that I'd immediately go to journalist extraordinaire Lisa Ling. However, in next Tuesday's season premiere, Ling dives into the arena made even more popular by the novel, Fifty Shades Of Grey.
At the OWN offices yesterday, Ling revealed of Tuesday's Shades Of Kink episode: "I learned about why people want to do it. There are people who, even as children, have fantasies of being bound and tied up and this is a way in a safe environment to be able to explore these things."
She added that perceptions are not as dangerous as people may think and the episode will show that: "What people don't realize is it's the most consensual kind of thing, almost in the whole sexual realm because everything's negotiated ahead of time."
Ling said that some uncomfortable giggles might come from the subject matter but, as seen from a clip shown at the gathering, viewers may find a new use for the kitchen wooden spoon. And, for that, I insert a Notebook BOOM!

That's a wrap for this week! Anything else you're dying to know about your favorite show? Leave a comment here or you email me directly at jim@jimhalterman.com. And remember: follow @TVFanatic for all your TV scoop!
Jim Halterman is the West Coast Editor of TV Fanatic and the owner of JimHalterman.com. Follow him on Twitter.