John Krasinski Reflects on The Office, Prepares to Say Goodbye

TV Fanatic Staff at .
John Krasinski stars in Promised Land, a drama he co-wrote with Matt Damon.
But while promoting that film in an interview with Movie Fanatic, the actor touched on the show to which he admittedly owes everything. What will be like to say goodbye to The Office in May?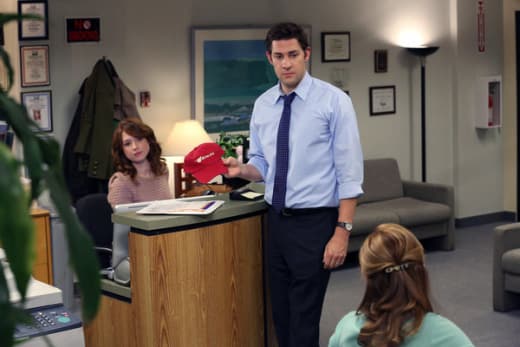 "I do this stupid thing where I think I have it together, until the very last moment when I get blindsided by a bus," Krasinski said. "I remember when Steve [Carell] left. In the weeks leading up to it, people were getting really sad. And then, the day of, I walked on set and it seemed like everybody was crying.
Then, the last shot of the day, of his last scene, was my character saying goodbye to his character. They called "Action!" and I started wailing! So, Emily [Blunt, his wife] keeps saying to me, "You should probably start planning now." I keep doing that thing of, "I'll be fine!" I'm pretty sure I won't be..."
Correction: the actor knows he won't be.
Krasinski, after all, is unafraid to give The Office credit for what has become a successful, versatile career.
"No one would know my name if it wasn't for that show," he says. "I wouldn't have met my wife without the show. It's the most emotional moment in my career, for sure. The truth is this show has given me everything. I was a waiter before I got [it]. It's a part of my life that has defined me, in the best way. I would never give any moment of it back."
Might we ever see him back on the small screen?
"To me, television is one of the most exciting things going on right now, as far as content goes." Some of these shows are better than any of the movies out there. I've fallen in love with shows like Homeland and The Wire. And I think The Office is in a category like that. 
"It's such a special opportunity, and I'm so lucky to have had it. So, to say that I'm walking away from television altogether would just be stupid. There's so much fun to be had. I think that I might take a small respite, only to let this actual experience out of my system. I don't want to let television out of my system, but I'll have to deal with the experience of leaving a show and a group of people that I was so strongly."