I think most people would agree that "New Year's Eve" is perhaps the most overrated and disappointing holiday there is. And in a hotel that looked like it hadn't changed the sheets since the mid-70s, Jay's family was bound to be let down.
No offense to the cherries jubilee.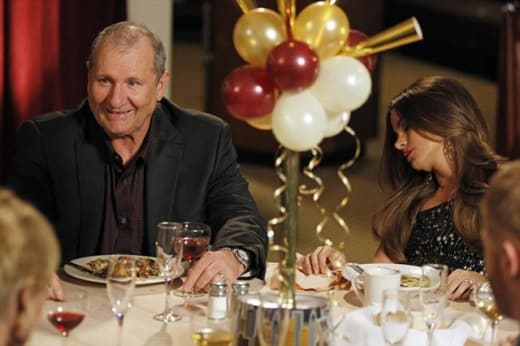 Look how much fun Gloria's having! I'm just kidding.
If I were that pregnant I'm sure I'd be fully reclined or sleeping face down in my dinner. I have to hand it to the woman, she's rocking that bump and drag racing a super-sweet whip. If you didn't have one of those in your village growing up, you simply just COULD NOT call yourself a Drug Lord! 
In all seriousness, she and Jay looked like they were finally having a great time together, as she even got to do her grapes tradition at midnight. Hey, I might try that next year, seems to really work for Gloria. Once everybody loosened up and ditched the plan, that's when things got fun. It also helped everyone to forget that the clock was ticking and that they were getting older. (Thanks, Haley!)
You know your life needs a naked dip in a hot spring if Christmas sales are the things that get you turned on, right, Claire?
It was the day after Thanksgiving. I came in under budget for all my Christmas gifts and you know how that gets me going. | permalink
By the way, you just KNOW Claire Dunphy is that scary woman who was lined up for Black Friday when it was still dark out and got on the news for physically mowing bitches down at the store. You're welcome, Steve Levitan, for that brilliant idea for next year's holiday episode. I accept thank yous in the form of a set visits.
Seriously, when the rest of the nude party showed up at the hot spring, I was cracking up. Claire and Phil are exactly the people who would end up in that situation and Phil would feel too rude to ditch everyone no matter how uncomfortable he got. Besides, did you see how that bellboy was eyeing Claire? You know he wanted it.
He was eyeing her the same way those older men were eyeing Mitchell. I'm glad they got their moment to feel young again. He got to feel young and Haley and Alex got to feel old when they realized they had to chaperone Luke on his date. I'd say that yes Haley does owe Claire multiple apologies, but worry not, her own children will probably be karma enough. She will probably have daughters who are even wilder than she is.
Let's all raise a Pina Delgado to the new year and the return of Modern Family!